Hambleton District Council in Yorkshire is introducing two new electric vehicles to replace its existing vans, in order to move to a 100% electric fleet in the future.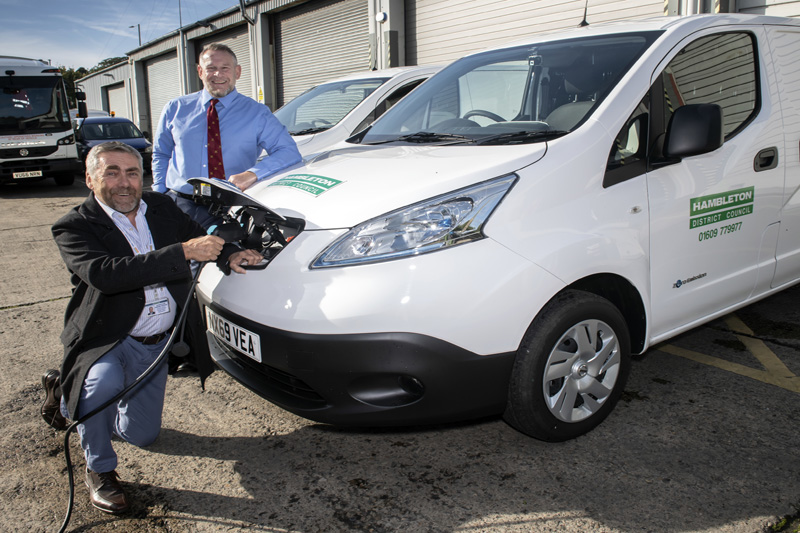 The two Nissan eNV200 vehicles were delivered in September 2019 and will be carrying out a range of services including the enforcement of fly-tipping, waste management and street cleansing. Supplied by the council's vehicle partner, contract hire and fleet management company, Specialist Fleet Services (SFS), the delivery was part of a 10-year contract signed in 2016 to supply and maintain the council's waste, recycling and street cleansing fleet.
Stephen Watson, Portfolio Holder for Environmental Health, Waste and Recycling, said: 'Technology has improved significantly in recent years, enabling us to enter an agreement that can provide us with electric vehicles, while we aim to run a 100% electric fleet in the future. If we want to encourage residents to be more mindful of the effects their vehicles have on our local environment, then it's right that we look at our fleet and do something about it.
'We would hope that other organisations and individuals would think about how they too can contribute to the transition from fossil fuels to alternative forms of transport. We should all recognise the importance of reducing our dependence on fossil fuels and minimising climate change. These vehicles enable us to show how we can tackle emissions from the mileage our staff need to do to provide services across the district, and I look forward to watching how this progress.'
Bob Sweetland, Managing Director, SFS commented: 'We are delighted to be able to introduce the latest electric vehicle technology to the Hambleton District and excited to be able to help the council move towards its vision of a 100% electric fleet.'