FORS has created an animation and infographic to showcase how the scheme helps local authorities meet air quality targets.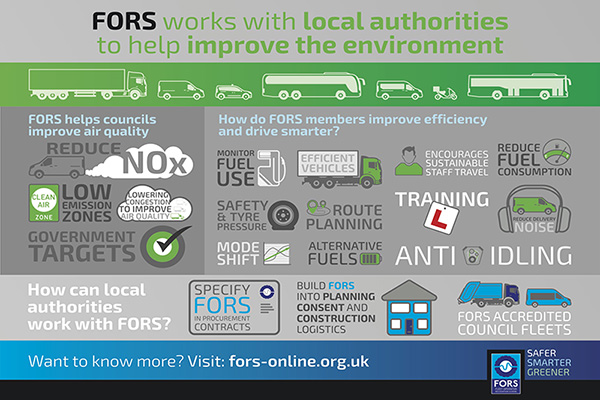 The new animation and infographic show how local governing bodies and procurement contract specifiers can work with FORS to safeguard road transport supply chains and meet stringent air quality targets. The infographic includes how FORS can be written into procurement contracts to ensure the safety and sustainability of road transport supply chains.
FORS is the go-to voluntary accreditation scheme for the road transport industry. It works nationally with 5,000 members using a progressive model to drive-up standards, offering a clear route to best-practice and environmentally efficient operations for heavy goods vehicles, vans, refuse vehicles, buses, coaches, minibuses, taxis and moped fleets.
FORS Business Services Manager, Paul Wilkes said: 'Local authorities are now responsible for meeting tough air quality targets set by the government, with Clean Air Zones and Low Emission Zones now in place in many cities. For this reason, their road transport operations must be as efficient as possible.
FORS is now being built into many local authority service contracts, giving councils a clear standard which all commercial vehicles operating on its behalf, must meet. We also work with construction companies to guarantee the supply chain on significant infrastructure projects, including HS2 and Thames Tideway, use efficient, safe road transport operators. It ensures supply chains are operating as efficiently and safely as possible."
The infographic and animation outline how FORS members deliver efficiency via the scheme's mix of training and measurement to maximise fuel use and lower harmful emissions.
For example, FORS members learn anti-idling driving techniques to save fuel and reduce emissions, understand how to minimise the noise impact of their operations and realise the efficiency and safety benefits which arise from correct tyre management. The FORS Standard, which sets out the requirements members must meet to become FORS accredited, includes mandatory traffic management, fuel management and route planning policies to ensure efficiency, at each level of the progressive scheme.
Paul added: 'FORS is perfect for local authorities who all must prove the efficiency of either the fleets they own and operate directly or the fleets specified in their procurement contracts. We also work closely with construction companies to guarantee safe and efficient road transport operators within the supply chain of major infrastructure projects.
We hope the infographic and animation help show how easy it is to work with FORS, and the quantifiable benefits to the environment which FORS can bring.'
Watch the FORS animation here: https://www.fors-online.org.uk/cms/fors-works-with-local-authorities-to-help-improve-the-environment/