Coventry City Council has adopted a combination of a Mercedes-Benz Econic chassis, Dennis Eagle Olympus body and Terberg bin lifts for its new fleet.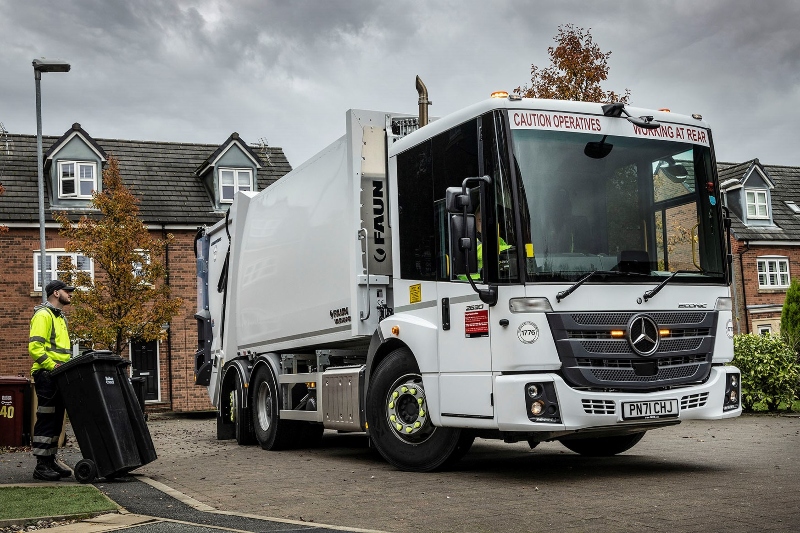 The local authority has bought 11 more of the refuse collection vehicle combo to replace some of the 40 similar vehicles which make up the backbone of its domestic and trade waste fleet.
The vehicles feature 6x2 Econic 2630L chassis with 7.7-litre engines which produce 220kW (299hp) and drive through six-speed Allison automatic gearboxes.
The first batch of Refuse collection vehicles (RCV) is fitted with Dennis Eagle Olympus 21 widebodies and Terberg OmniDEKA high-level bin lifts. The lift can handle either two domestic bins of up to 160kg each or one trade bin up to 500kg.
The second batch of vehicles delivered featured the Dennis Eagle Olympus Twin pack bodies with two compartments split in a ratio of 35:65 with a body volume of 22m3, suitable for collecting
different waste streams at the same time.
The Olympus Twin Packs were fitted with Terberg OmniDEL Triple automatic low-level bin lifts, capable of lifting three domestic bins of up to 100kg each or one trade bin on the 65% side of up to 500kg.
The bodies and lifts were designed for easy hand-loading of waste with a drop-down rave rail, and are suitable for operators running mixed recycling and residual waste collections
The Mercedes-Benz Econic's air-conditioned, low entry cab is easy to climb in and out of and walk across – a significant health and safety feature for crews. And its deep, wrap-around windscreen and fully-glazed, folding side door offer an all-around vision for drivers.
The Econic also comes with a standard-fit armoury of driver assistance systems which exceed legislative requirements, including Active Brake Assist 4 emergency braking technology with pedestrian recognition capability.
Another variation in the order saw the first five RCVs – which have already been put to work on domestic rounds – each featuring mid-steer axles. The remaining vehicles, however, will all be fitted with rear-steer axles for better manoeuvrability.
Coventry City Council intends to monitor the performance of these trucks before deciding whether the rear-steer will also be more appropriate for mainstream domestic work in future orders.
'Together, the vehicles are designed with durability, minimal maintenance and safety in mind, and it was their competitive running costs that led Coventry City Council to come back to order more,' said
Brian Martin, Assistant Fleet Manager at Coventry City Council.
'The Econic is noticeably more durable – the fact that it lasts longer means we have typically tended to keep ours for seven and sometimes up to 10 years,' he said.
'Mercedes-Benz has put a lot of thought into the design of the Econic cab, which is very comfortable. We have had good feedback – the vehicle is exceptionally popular with our drivers and crews.'
Local Mercedes dealer Midlands Truck & Van, which is just a quarter of a mile from the Coventry City Council depot in Whitley, provided the chassis. And the vehicles were also assembled locally – only 12 miles down the road – by the prime contractor Dennis Eagle at its Warwick manufacturing facility.
Richard Taylor, Sales & Marketing Director at Dennis Eagle, said: 'We have excellent working relationships with both Mercedes and with Coventry City Council.
'It's always good to see a local authority supporting local industries – which provide jobs and prosperity to the community – while getting excellent vehicles for their efficient waste and recycling operations.
'As prime contractor, our role is making sure our customers get the vehicles they ordered on time, and we're uniquely placed to do this. Our customers can communicate with just one supplier, and we keep them fully updated throughout the process.
'It helps that, as a company, we are focused on the waste and recycling industry. And, having been here for a long time, we have developed long-standing relationships which enable us to work closely and efficiently with other suppliers, like Mercedes – and especially with Terberg Matec UK, who are part of the same group.
'Finally, the scale of our manufacturing operation gives us the flexibility to respond to the unexpected and keep to schedules. These are key reasons operators like Coventry keep coming back to us.'