Midlands recycling and waste management company Clearaway has invested in a new refuse vehicle supplied by RVS.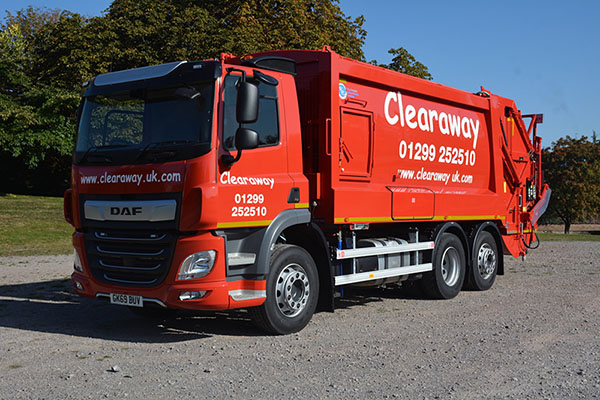 Calvin Williams, Director, Clearaway: 'We grew faster than expected over the summer of 2019 and needed another vehicle urgently to meet new demand.'
Refuse Vehicle Solutions (RVS) supplied a new 26-tonne, DAF Hillend Powerlink with UTL trade bin lift to the company in under a month via RVS' RediTruck service. This solution provides brand-new vehicles which are in-stock and available immediately. These trucks can come in a range of configurations, and fitted with the latest weighing and safety technologies.
Spencer Law, Managing Director, RVS said: 'We can provide vehicles in short-time scales so that companies like Clearaway can respond quickly to market demand, without having to wait 6-9 months for a vehicle from the manufacturer.'
Calvin added: 'We've used RVS for years, mainly for the provision of hire vehicles, and we had heard of its' RediTruck service, so we asked if RVS had a brand-new vehicle matching our specifications available. The company could supply us within four weeks of placing the order. We received the vehicle, sign-written and resprayed in our corporate livery, ready to go to work. If we had ordered from the manufacturer directly, we would have had to wait up to 9 months. With the number of customers flooding in that just was not an option. We are over the moon with the vehicle and grateful for the RediTruck service.'