Future Fleet Forum always stimulates debate, and the round table discussion that took place before the conference saw manufacturers, policy makers, and local authority representatives from around the world share their thoughts on pressing industry issues from safety to skills. Lotte Debell reports.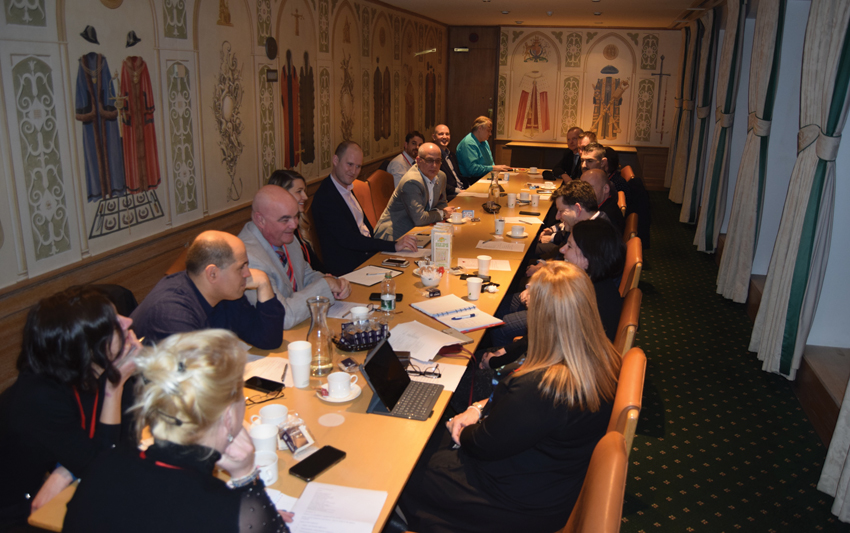 SAFETY
The debate kicked off with a discussion about safety. The manufacturers in the room agreed that certain things, such as cameras and cycle safety systems on HGVs, are now the norm in contracts. 'We rarely see any spec without them these days,' said Ben Hoadley from Dennis Eagle. However, everyone agreed that improving safety is an ongoing, multi-dimensional challenge.
Some of this involves new vehicle technologies and often advances are sparked by tragedy. Fraser Crichton from Dundee City Council said that Scotland's HGVs are much better equipped to deal with accidents since the Glasgow bin lorry crash of 2014 that killed six people. 'One of the things we looked at in the wake of this was the possibility of an emergency stop button. It is complicated, but manufacturers are working on it.'
Vehicle design is also important for improving safety. A key topic was London's new HGV Safety Permit Scheme, which relates to the degree of vision the driver has directly from the cab. This new Direct Vision Standard (DVS) rating system will require all HGVs in London to achieve at least a one-star rating by October 2020. From 2024, the requirement will rise to three stars. Vehicles that don't meet this standard can still apply for a permit to enter London as long as they are fitted with appropriate mitigating measures.
There will inevitably be teething problems with any new policy. Russell Markstein from NRG Fleet Services and Electra Commercial Vehicles raised the issue of contract hire vehicles and long-term compliance when the goal posts move in October this year. Peter Binham from Transport for London (TfL), however, argued that focusing on safer vehicles is the right way to go.
'We are sitting here talking about the additional safety equipment we can put on vehicles to make them fit for purpose for the environment it works in. We need to design a vehicle that is fit for purpose. Making sure the driver can see adequately outside the vehicle is going to save lives. Instead of thinking in terms of cameras and sensors or cutting holes in doors, we need to go back to the drawing board.'
Arguing that the standard will save lives, Peter stressed that it was important for everyone to get behind it. 'It is important that operators and manufacturers see the way the market is going, and if we can create a market that ensures the people doing the right thing are winning the work through work-related road risk clauses, that can only be a good thing.'
There are three direct vision truck models available in the UK, from Dennis Eagle, Scania, and Mercedes. 'Is that a good number?' asked NYC's chief fleet officer Keith Kerman. 'We have tried to follow your lead and require a move to direct vision trucks, but there are very few models in the industry. We have them for garbage trucks but almost nothing else, so we have to change the market.'
'When our research identified that there was a real problem with blind spots in commercial vehicles, we turned around to the manufacturers and set them a challenge,' said Peter from TfL. 'We asked for a vehicle that would work in the urban environment, and it was only by bringing the operators to the manufacturers to tell them what they wanted, did things change. The key is working with industry.'
But it is not all about safety systems or the vehicle. Ruth Waring, a consultant with Big Change, pointed to the Health and Safety Executive's (HSE) guidance on driving for work. 'This is a great touchstone. In addition to management standards, it talks about three things: safe driving, a safe vehicle, and the journey. The safe vehicle is just one aspect. In the aftermath of the Glasgow incident, there was a lot of talk about driver capability and how that had been reviewed, so we need to be careful not to talk just about the kit. We also have to look at the journey and the driver.'
Michael Colbourne from Veolia pointed out that the kit and the driver must work together. 'We have all this technology and more and more safety systems, but what we actually need to do is familiarise drivers with the technology. Usually there is a quick handover at delivery, but if you have a hundred drivers, you need to make sure that message is understood by everyone.'
TELEMATICS
In-vehicle telematics was another hot topic. New York has the largest public telematics programme in the US, involving 12,000 city vehicles and 10,000 school buses. 'This tells us all the little things, like speeding and automatic collision reports, but it also has this big data potential,' said Keith Kerman. 'We have just announced a pilot with MIT [Massachusetts Institute of Technology] where we are putting air quality sensors on the top of city vehicles. If successful, this could create an entire air quality monitoring system out of a fleet programme.'
Telematics use is not without its controversies. New York unions are pushing back through legal channels over questions of how the data will be used, but in the UK use of telematics in road transport is becoming the norm. This is also the case in France and Germany, said Sylvie Giangolini from Hako.
'I'm tracked,' said Sylvie. 'I like the fact that someone knows where I am if there's a problem. We had a salesman who had an accident a couple of years ago and ended up upside down in a ditch in Cumbria. We knew where he was and could send the emergency services to him. We believe that the benefits of telematics outweigh the potential obstacles for implementation.'
'There are so many positives for council employees,' said Fraser. 'One of the major ones is that our vehicles are often accused of having accidents with the public, and now we can look at the telematics and see that the vehicle was miles away. It's great for insurance purposes, and there are many more positive messages like that for employees.'
In Canada there are strict privacy laws, explained Steve Rapanos from the City of Edmonton, but this hasn't precluded vehicle tracking entirely. 'We worked with our unions and we have a joint commitment on the use of telematics for safety, but your supervisor can't go in and snoop around. If you have those controls, you can still get the data on safety and driver behaviour.'
SKILLS
The fact that the UK is experiencing a shortage of drivers, mechanics, and technicians has been an area of concern for a while, and the UK is not alone. Even in New York, where the Department of Citywide Administrative Services (DCAS) works with public high schools and runs initiatives to promote the industry 'the gap is still enormous', said Keith. 'Although there are great careers and jobs in fleet, we need to do more to encourage students to become mechanics and tradespeople.'
'It's just not sexy,' agreed Sylvie Giangolini. 'Fixing things is not something young kids want to do anymore. They want to write gaming programmes.' But Fraser said Dundee's experience has been rather different, because the industry is changing. 'You need a different set of skills for EVs. Before, people came into the industry who wanted to fix things. Now, it's all about diagnostics and new technologies, and we are seeing young mechanics coming in who have studied electronics at school. People have grown up with smartphones, and now that smartphone can talk to a vehicle, and we are even looking ahead to a future where cars don't need drivers. And it's not just new people. We have established mechanics who want to understand how these things work. The change to e-mobility has really invigorated our workforce.'
More than simply new skills, it's about evolving skills. 'People mistake what we are trying to do as moving from a combustion engine to electric, but that is completely wrong,' said Fraser. 'What we are moving to is an energy source on four wheels, and it is so much more complex than just a different drive train. Once you understand that, you realise that you need a whole range of skills for everything that car can do, and it will bring in people with more varied skill sets.'
The move to electric hasn't caused universal enthusiasm, however. Several participants commented that lack of knowledge of EVs, coupled with news reports on the potential dangers, can make people nervous. And there is certainly a need for training. 'High-voltage training for established mechanics is not actually difficult,' said Russell. 'Our entire workforce across 16 workshops has gone through high-voltage training. It doesn't need a massive investment, but it does need a change of mindset.'
However, as Fraser pointed out, technology is changing so rapidly that training is an ongoing requirement, not a one-off. 'If you compare batteries today to batteries two years ago, it's like night and day. It means constant training to keep up.'
IT'S NOT JUST ABOUT ELECTRIC
While there was a lot of discussion about electric vehicles, it is by no means the only alternative technology out there. NYC has recently announced a plan to go all electric with its fleet by 2040. Until we get there, however, Keith Kerman said that New York is transitioning its police fleet to hybrids, and has also announced a new contract for renewable diesel. 'We have been one of the biggest users of biodiesel since 2005, but we have just used our first million gallons of renewable diesel. The biggest difference is that, unlike biodiesel, renewable diesel meets the same spec as regular diesel – it is a complete switch-out fuel.' In Calgary, Canada, the city is embracing the potential of all kinds of solutions, said Sharon Fleming, director of Calgary's fleet services. 'We are launching an innovation hub so that manufacturers can come to us and pilot their new technologies in cold weather conditions. We also have a corridor that we are arming with sensors so they can test everything about their vehicles in our climate. We are about to start a pilot of a CNG hybrid sweeper. We are not yet ready to convert for the sake of converting, but we want to do the right thing and be ready when things come up.'