A new fleet of low emission refuse vehicles has arrived at Mid-Devon District Council (MDDC).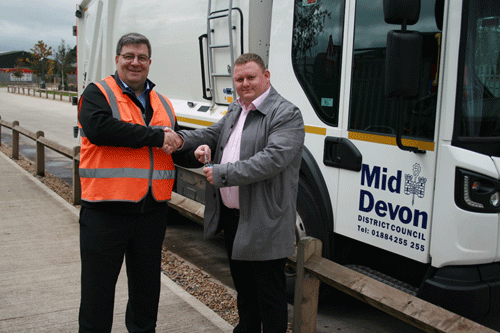 The first of the new vehicles include four Euro VI 26T Dennis Elite 6 Narrow Refuse Collection Vehicles, which comply with the latest low emission standards, and have been designed for operation in built-up urban areas as well as narrow access roads and country lanes. Following a successful trial, MDDC also selected a Kramer KT 407 Telehandler from plant equipment specialists Masons Kings primarily due its to the performance and the drivability of its hydrostatic transmission.
Cllr Luke Taylor, Deputy Leader and Cabinet Member for the Environment, Mid-Devon District Council said: 'The contract with SFS is not only better value for money but also much less complicated. By reducing the vehicle costs for the council we can continue to provide excellent services such as waste and recycling collections for our local residents.'
The contract for Mid-Devon District Council commenced on 3 June 2019 and over the course of the contract, SFS will be providing a range of vehicles including RCVs, recycling vehicles, sweepers, hook loaders, tippers, vans, cars and grounds maintenance equipment. The council will also be trialling electric vans and cars to replace the existing car fleet.
Bob Sweetland, MD of SFS commented: 'These are the first in a wide range of new, latest technology vehicles, being introduced into Mid-Devon to deliver an enhanced waste and recycling collection, and grounds maintenance service. We are working closely with the council to deliver cost savings whilst maintaining a younger, lower-emissions fleet.'