Kärcher's new MC 250 sweeper has been designed for municipal use in urban areas and is equipped with a low-emission Euro 6 or Stage V engine.
Featuring two-person cab, all-wheel steering system for easy manoeuvrability and a large hopper to keep on the road for longer, this machine enables users to complete any municipal cleaning task.
The development of the new MC 250 sweeper closes a gap in the Kärcher portfolio, with machines now available in all classes between 0.5 to 6m3.
Sweepers are an essential part of municipal cleaning in both the city centre and on the outskirts of cities, meaning that vehicles are often required to cover long distances between applications. Frequent journeys to and from work sites lead to 'lost' idle-time, which is hugely inefficient. The MC 250 provides a remedy for this 'lost time' through the combination of a 60kph transport speed and container volume of 2.2m³ which ensures users are fully set to clean wherever they need to go.
With the rise in low-emission zones in cities, Kärcher has made sure that this new sweeper emits the lowest emissions possible. The MC 250 satisfies the requirements of the 2.5 PM class within engine category EURO 6/STAGE V in compliance with current environmental standards.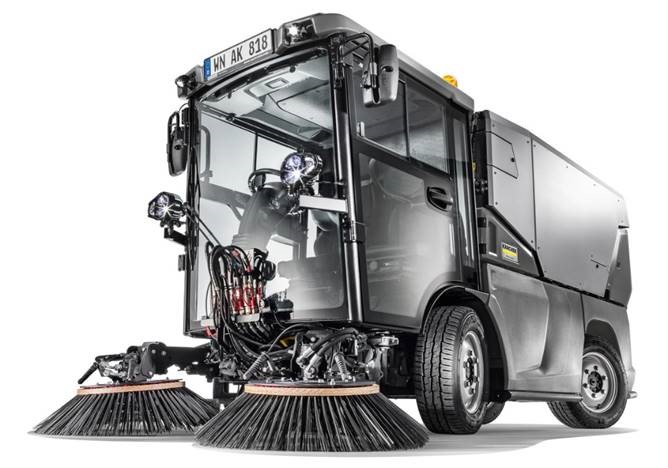 For this new sweeper, fine dust and sand particles pose no more of a problem than coarse dirt. The MC 250 has been designed with optimised air-flow and the sweeper's individually controlled brush system means dirt in different areas can be easily reached, while the use of the weed brush delivers a more precise cleaning result. A water recirculation system and a separate tank for the dirty water are also integrated. Everyday machine maintenance is made simple with all service components easy to reach via access points, with the engine also directly accessible thanks to the fold-out water tank.
When it comes to operator comfort the MC 250 features many upgrades, including LED lighting in the cab, a USB charging facility as well as a spacious storage area for the driver and passenger. The central display and ergonomic operating panel have been selected after rigorous testing and the hydro-pneumatic suspension on both axles, plus single-wheel suspension on the front axle means any bumps or uneven ground are comfortably driven over.