Copeland Borough Council has put an eye-catching image of a whale on the side of three of the council's refuse vehicles as part of a campaign to encourage recycling.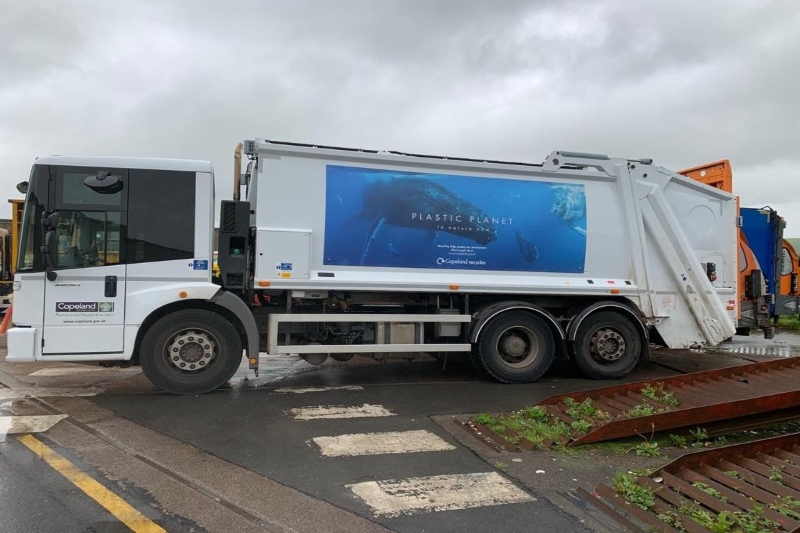 The image, which was designed by Roadvert's Spedian™, was introduced in conjunction with the launch of Recycling Week last week.
The campaign aims to educate residents on the importance of waste reduction, plastic waste reduction and recycling. Over the coming weeks the vehicles will head down every street in the borough, giving the council the opportunity to communicate the message to the local community.
Jan Boniface, waste management officer at Copeland Borough Council, said the refuse vehicles form a key part of the council's suite of communications.
'We use a range of methods to communicate with our residents, and messaging on refuse vehicles that visit every street in the borough forms a key part of this approach,' she said.
'We have enjoyed a successful partnership with Roadvert for a number of years. By combining their expertise with our refuse vehicles we have been able to develop a range of compelling messages which have been displayed to residents across the borough, most recently during the height of the pandemic with both the Stay At Home, and Wash Hands – Stay Alert messages on our vehicles. Indeed we are still communicating the latter message to our constituents as the pandemic continues.'
Ms Boniface said while all campaigns are designed to be eye-catching, it is important that they remain current so as to have the maximum impact.
'Plastic is topical and once again David Attenborough has brought such issues to the fore with his latest programme, Extinction. With his documentary series still at the top of people's minds we are hoping our latest campaign will also go at least some way to reigniting people's passion in reduction and recycling. Once again this has been made all the easier with the help of the team at Roadvert who are always extremely pro-active in helping us get our ideas off the ground.'
Lawrence Craig, CEO of Roadvert, commented: 'Copeland Borough Council has come up with a great idea for a campaign using its refuse vehicles to help remind residents on the importance of helping to reduce waste for the benefit of the environment.
'We are delighted to help them kick off the campaign in Recycling Week enabling them to spread this message, in turn encouraging residents to think about how they can make a difference starting with their own household waste.'