The first fully electric waste collection vehicle in Berkshire has been unveiled by Reading Borough Council this week.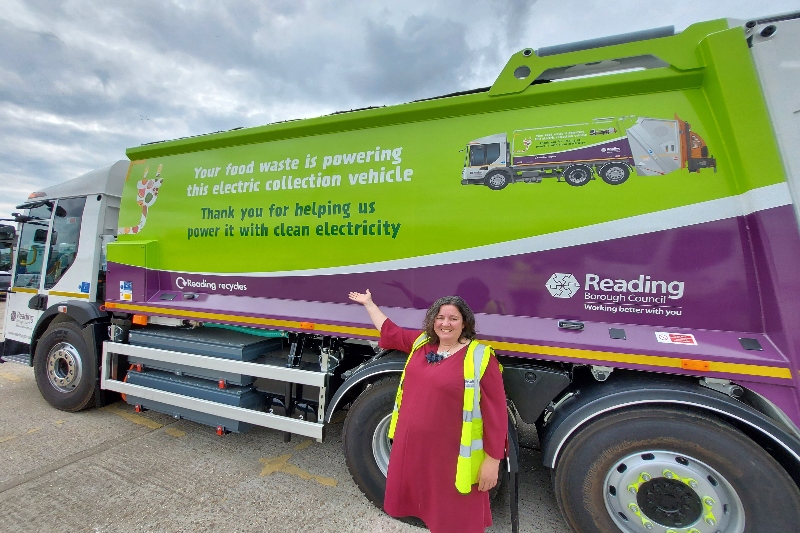 The vehicle is powered by clean electricity generated by the food waste recycling scheme Reading's residents are taking part in, and will save 32,200kg of greenhouse gas emissions each year compared to a diesel equivalent.
The new eRCV will make approximately 1,400 daily collections, and in doing so will drive almost 8,000 miles each year on clean electricity rather than diesel, with zero tailpipe emissions.
The council's Carbon Plan 2020-25 includes targets to reduce corporate greenhouse gas emissions by 85% by 2025, be net zero by 2030, and a 50% reduction in fossil fuel use by 2025.
Transition of the council's fleet from fossil fuel to electric, particularly the refuse collection vehicles, is a key element of this.
Reading Borough Council hopes to replace another six of its 26-tonne diesel refuse collection vehicles with electric versions next year, with the remaining six changed within three years to provide an all-electric fleet. The council's six food waste collection vehicles will also be replaced by electric vehicles before 2030, as vehicles of this type become available.
Adele Barnett-Ward, Lead Councillor for Neighbourhoods and Communities, said: 'This is an exciting day for Reading as we are taking a huge step towards becoming carbon neutral by being the first council in Berkshire to introduce a fully-electric refuse collection vehicle. It will make over 350,000 collections each year without using fossil fuel or generating tailpipe emissions.
'I look forward to our entire fleet changing to electric vehicles over the coming years, and encourage everyone in Reading to participate in our food waste recycling scheme, which not only stops waste going to landfill but also generates clean electricity to power vehicles such as this. Thank you for recycling all that you can.'