Municipal vehicle specialist CP Davidson & Sons (CPD) has delivered its first Mercedes-Benz Econics to North Warwickshire Borough Council.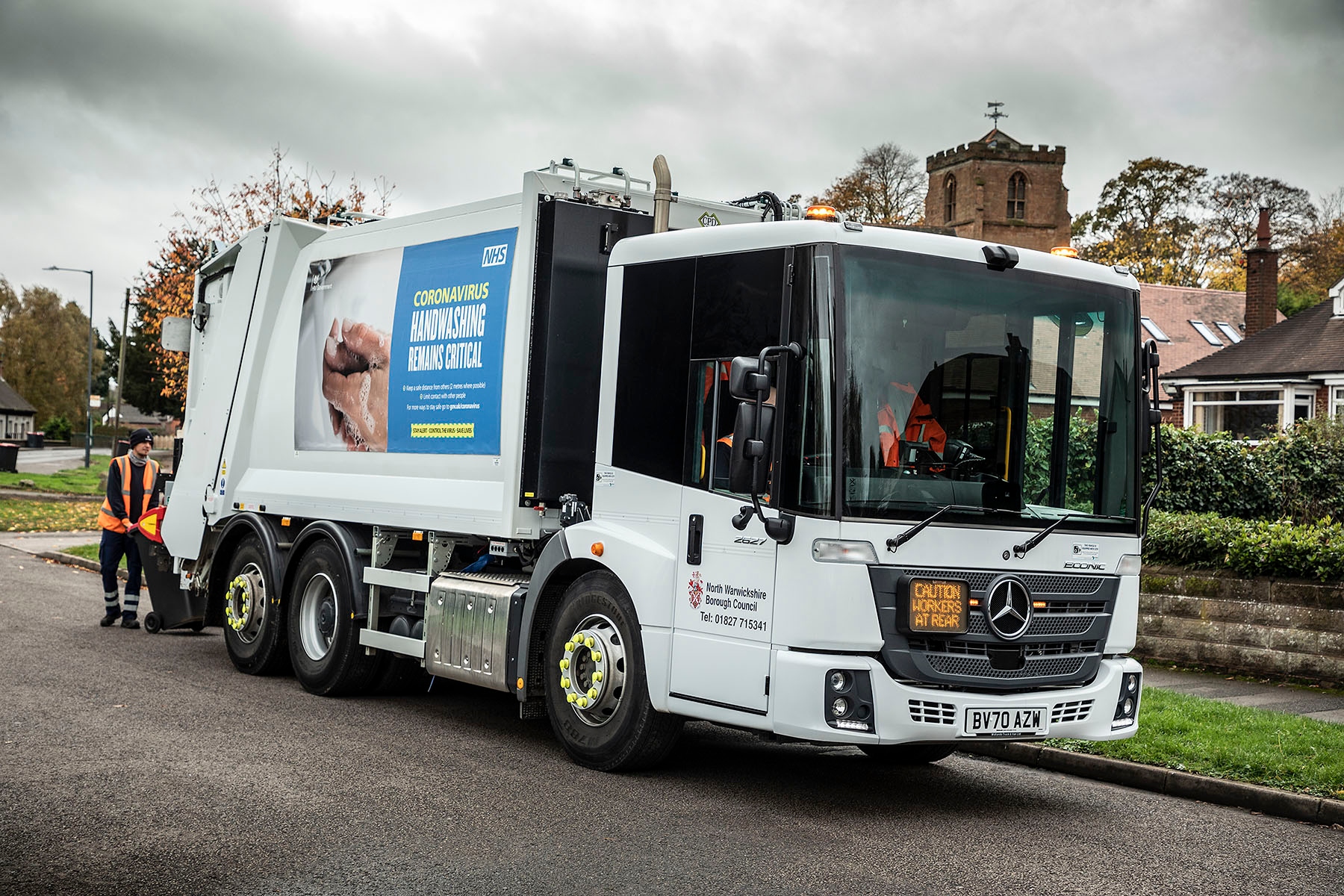 Of the 16 trucks the local authority uses to collect domestic and trade waste, 12 are 26-tonne Econics.
'My preference is definitely for the Mercedes-Benz,' commented the council's waste & transport manager John Rhodes. 'It offers proven reliability and performance, and leads the field in terms of safety. The aftersales support is first class as well.'
As 2627L models, North Warwickshire's new trucks employ 7.7-litre six-cylinder engines that transmit their 200 kW (272 hp) outputs to the road via six-speed Allison automatic gearboxes purpose-designed for stop-start applications. Rear-steer axles make the job easier for drivers by significantly reducing turning circles.
Fitted with Terberg split bin lifts, CPD's 19m3 capacity Titan XLS bodies offer class-leading payloads, 14-second compaction cycles, and – with only 890rpm required from the engine – fuel savings worth up to 15%. At 75dB(A) they are exceptionally quiet too, while short rear overhangs also contribute to manoeuvrability.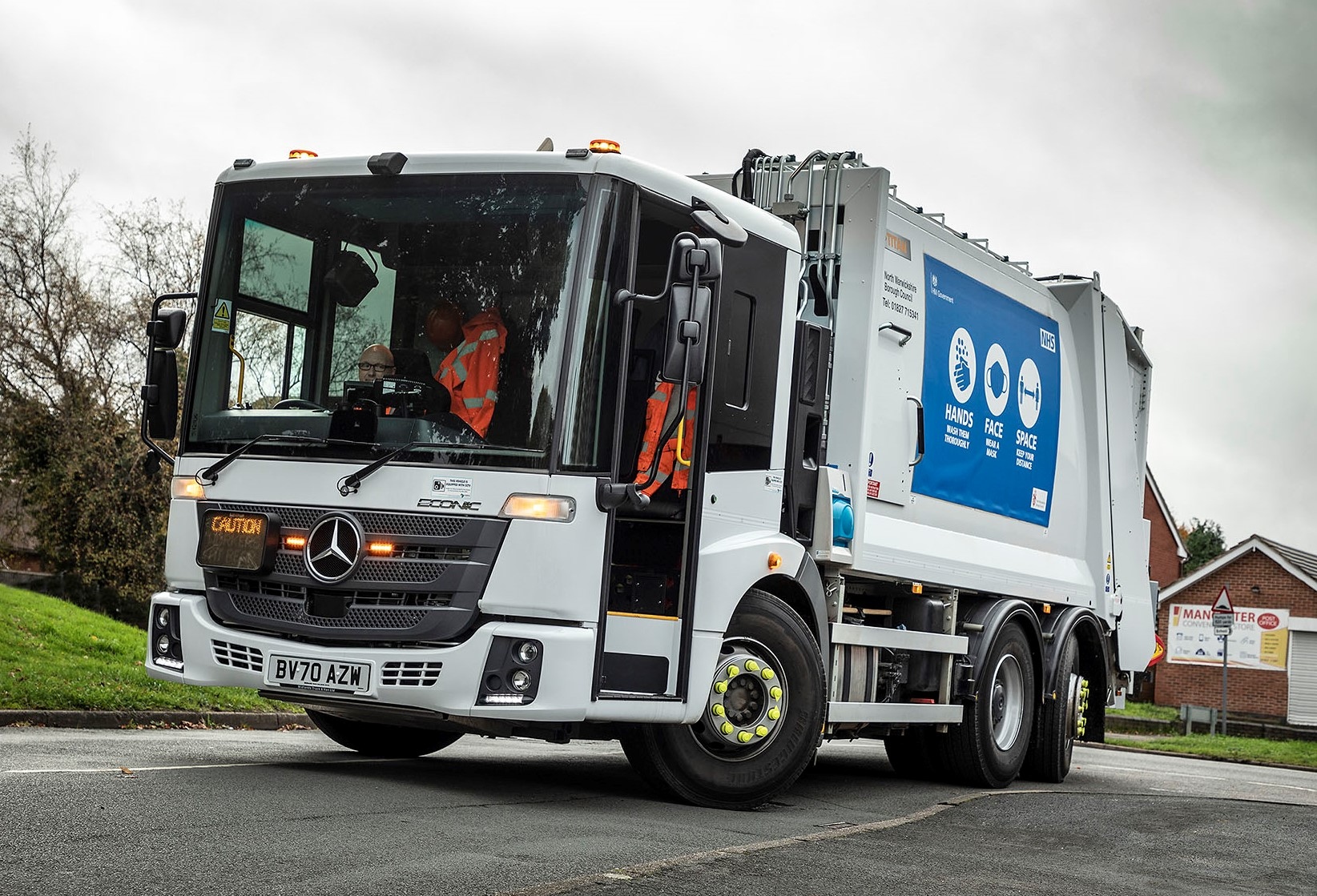 North Warwickshire Borough Council conducted a comprehensive tender process before awarding the contract for the three new trucks.
Mr Rhodes said: 'CPD's was the standout bid, achieving top scores. The bodybuilder provided us with a demonstration unit for trial and hosted us on a tour of its production facility prior to the onset of COVID-19. Robert Davidson and his team could not have done more.'
The new trucks have bus-style nearside doors which are glazed to full height. This feature, combined with the vehicle's deep, wraparound windscreen, and a low seating position that allows drivers to make direct eye contact with vulnerable road users at junctions, has earned the Econic a top, five-star Direct Vision rating from Transport for London.
The specification also includes Active Brake Assist 4 emergency braking technology. Programmed to recognise other vehicles at higher speeds, as well as pedestrians when moving more slowly, and is capable of bringing the truck to a complete stop.
Mercedes-Benz Trucks' Blind Spot Camera System comprises a seven-inch monitor, two cameras on the exterior mirrors, and others facing front and rear, and Sideguard Assist supports the driver when making left turns and changing lanes in busy environments where visibility may be restricted. Two short-range radar sensors mounted on the passenger side of the vehicle monitor up to a lane's width, and deliver optical and acoustic warnings which alert the driver to the presence of cyclists, pedestrians or other vehicles.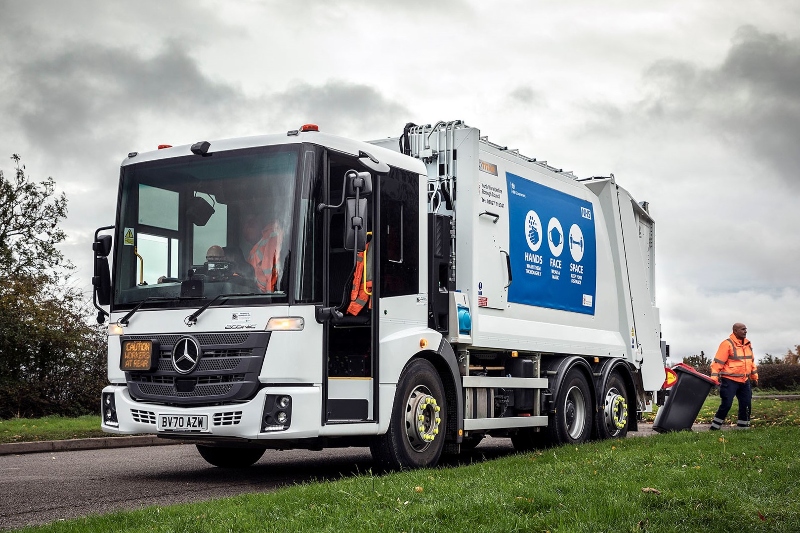 'We've not needed to go elsewhere for safety features, thanks to the impressive list of standard equipment and options provided by Mercedes-Benz,' continued Mr Rhodes. 'Given our Duty of Care, it's reassuring to know that the vehicles we're sending out each day are so well equipped to protect not only the colleagues who use them, but also other road users.
'As for the crews themselves, they love their Econics. Apart from providing excellent visibility, the cab is air-conditioned and roomy with lots of storage space, while the fact that it employs full air suspension means the ride is smooth and comfortable.'
North Warwickshire maintains the fleet in its own workshop but relies on Midlands Truck & Van for warranty and technical support, and parts deliveries.
'We run our Econics for seven years and experience has proved that they're built to stand this test of time. In the past, it's always been the bodies that have started to fail before the chassis, so we're looking forward to seeing how these new CPD Titan compactors perform over the lives of the vehicles,' Mr Rhodes concluded.