Norse Commercial Services has taken delivery of 11 Dennis Eagle RCVs for its domestic refuse collection service in East Hampshire.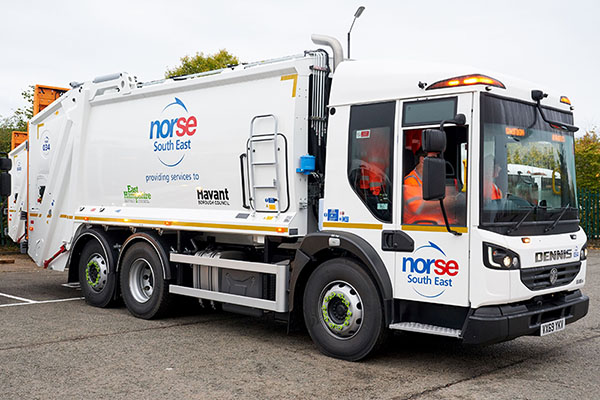 The vehicles are all Elite 6x2 wide rear-steer chassis with Olympus 20 bodies and Terberg OmniDEL Xtra bin lifts. Norse choose these particular vehicles because the organisation aims to deliver maximum efficiency in this rural East Hampshire district consisting of small towns and villages. The vehicles will operate from the Norse depot in Petersfield and maintenance will be carried out in-house.
Dennis Eagle was awarded the contract because it was the only company that could guarantee delivery by the required date.
Group Fleet Manager Chris Davison said: 'Dennis Eagle manufactures the majority of RCVs across the group. We like the product, and we get excellent back-up. The drivers and crews like the vehicles too – they have excellent cab layouts – and it helped that they were already familiar with the product too.
'We also think the Olympus body and Terberg lift provide the best combination. The advantages of a one-stop-shop are significant in terms of managing the specification, the build and the delivery. And it is the delivery that is crucial in all our new contracts where we are bringing in a new fleet, as opposed to replacing existing vehicles.
'We took over the East Hampshire operation on September 30, and we had to have all the vehicles in place and ready to roll by that date. Dennis Eagle successfully delivered the vehicles on time and also carried out all the staff training.'
The Norse contract for East Hampshire District Council also includes street cleaning and grounds maintenance for which the company has invested in an entirely new fleet of 38 vehicles. The Dennis Eagle vehicles are the only rear-loading RCVs in the fleet.
The vehicles are used for weekly domestic kerbside collections which alternate between waste and recycling. A dedicated glass collection is provided every four weeks, and a garden waste collection service is on offer as well.