With food waste on everybody's mind, Terberg Matec UK has added a new collection body – the ORUS – to its already extensive range of specialist recycling equipment.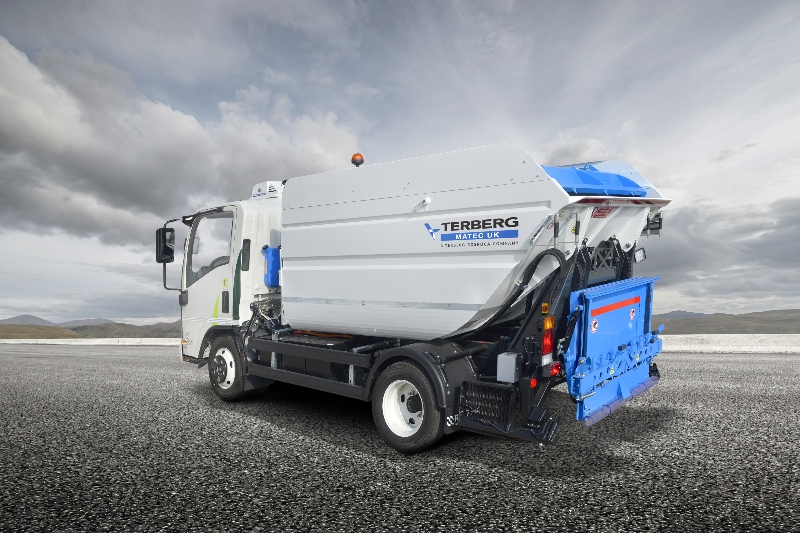 It is designed to be leak-proof, specifically for food waste collections, but the ORUS also has the flexibility to effortlessly switch to collecting numerous other waste streams if required.
The ORUS is available in a range of sizes from 7m³ to 14m³ and is suitable for chassis from 7.5t to 16t GVW.
The rear-mounted bin lift system is capable of lifting any EN-conforming two-wheeled or four-wheeled bins ranging from 120 to 1280 litres in volume and up to 500kg in weight.
Bin lift controls are located on both the near-side and off-side of the body for convenience and safety.
The ORUS also has an innovative rear pannier system which allows quick and efficient hand-loading.
Together, this system ensures the fastest loading times can always be achieved regardless of your food waste collection operation, from the smallest of hand-loaded food caddies to the largest four-wheeled bins.
The body is made of steel to make it robust, yet it has an impressive payload and can be mounted on a wide range of chassis.
The ORUS is designed to be both compact and manoeuvrable so it can safely access the tightest of collection points. For food collections, this is invaluable as bins are often located in back streets and alleys with limited access.
The ORUS also features a packing system which pulls food waste loaded at the rear towards the cab to maximise the load. The same system also provides compaction for dry waste streams with a ratio of 3:1.
The smooth-sided body is also designed to tip from a steep angle. This ensures the efficient emptying of any waste stream, be it into a satellite bin, a specially designed food-tipping point or simply into a dedicated bay.
Further safety and convenience are provided by LED lights, which not only illuminate the working area so operators can see what they are doing but also make the ORUS visible to pedestrians and other road users.
A wide range of optional extras is also available including CCTV, overload protection and a body rinsing system.
Will Marzano, Managing Director of Terberg Matec UK, said: 'We've been designing and manufacturing specialist recycling vehicles for many years and we go to great lengths to understand the changing needs of this industry by listening to our customers. The ORUS is the result of that vital process.
'Food waste collection is becoming more important and more extensive. We've created a product that complements our popular Plastic Bodied Utility Vehicles (PBUV).
'And, importantly, the packing mechanism on the ORUS can also provide compaction. Although food waste doesn't need compacting, it is important for many other waste streams and that dual packing and compaction system gives this body a very high degree of operational flexibility.
'Consequently, it will be popular with the larger operators who run specific food waste vehicles and it will be popular with smaller operators who want to use their vehicles for different waste streams. It's also very easy to clean which will make switching from one waste type to another straightforward.
'The ORUS fits a growing niche in our range of recycling vehicles. It is smaller and more agile than our aluminium Toploader bodies which are designed for heavier duties.
'And while our multi-compartment Kerbloader body lends itself to sort-at-source schemes which can include food waste, if you're collecting just one waste stream, this body is more suitable for your needs.'
The ORUS is designed to be low-maintenance, but it also comes with a 12-month OEM warranty to provide peace of mind to operators. And this is also backed up by the outstanding Terberg Matec UK's After Sales support services in both the field and the workshop.
You'll be able to see Terberg Matec UK's new ORUS for yourself at the Letsrecycle Live event at Stoneleigh in Warwickshire and the RWM Exhibition at the NEC, Birmingham in September.
In the meantime, if you would like more information about the ORUS or any other Terberg products then please contact the Terberg sales team on 01925 283 905 or email sales@terberg.co.uk.
This article was originally published in the autumn issue of LAPV. For a free subscription to the magazine, sign up here.