Local authorities are under pressure to increase recycling rates and reduce carbon emissions. Wales has set a recycling target of 70% by 2025 and there are calls for England to do the same. The UK Government has also announced its plan to set a climate change target into law to slash carbon emissions by 78% by 2035.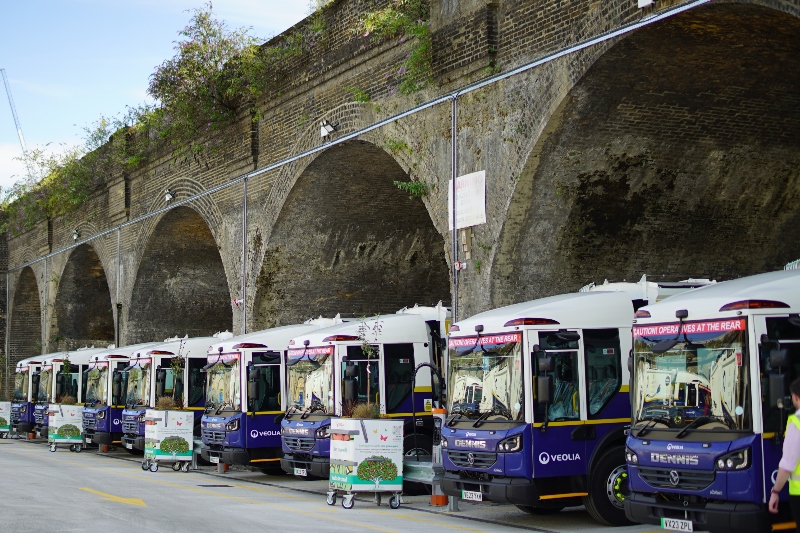 As a result, council communication teams have an important role to play in educating the public and promoting more sustainable ways of living and working, to create the necessary behaviour changes required to reach these targets. Budgetary restrictions and the pressure to reach more people for less spend is leading councils to look at additional and alternative ways to communicate key messages about reducing, reusing, and recycling.
Council vehicle assets are a good example of a readily available potential advertising channel. They offer a superb opportunity to reach large numbers of local people daily.
In fact, vehicle wrapping is gaining momentum across many sectors as an effective means of tactical messaging and is clearly becoming an integral part of vehicle operators' marketing communications strategies.
Transit advertising is an excellent way to reach audiences of all ages and backgrounds, and because refuse vehicles typically travel at very slow speeds, the opportunity to convey messages is even greater. Studies have shown that wrapped vehicles travelling in major cities can reach audiences of over 65,000 per day, with vehicles travelling in suburban areas being exposed to audiences of over 30,000 per day.
Vehicle wrapping offers arguably the lowest cost-per-impression rate form of advertising, with messages and images being displayed 24/7 unlike TV and radio advertisements. Moreover, research confirms that on average 75% of people recall what they have seen on wrapped vehicles.
Creative Vehicle Wrapping (CVW) specialises in wrapping commercial and municipal vehicles including refuse and recycling trucks.
Jonathan Thomas, Director, Creative Vehicle Wrapping (CVW): 'We wrap all types of commercial vehicles from vans to 26t refuse trucks, concrete mixers and tippers. Our team has an in-depth knowledge of these complex vehicles, and we understand what will work from a design and operational perspective.
'We use the highest quality of vinyl, and customers can choose from a range of colours, finishes and textures that simply aren't possible with paint. Vinyl has the added advantage of not fading over time, like paint, and it forms a protective layer. So, when it comes to selling a vehicle the paintwork on the body has been preserved.'
Newark and Sherwood District Council had a Dennis Elite Olympus 27 32t refuse vehicle wrapped with messaging to boost its #NotinNewarkandSherwood campaign against fly tipping and littering.
The vehicle body, hopper and cab were wrapped by CVW to display the message 'USING A REGISTERED WASTE CARRIER, PERFECTLY FINE. ILLEGAL FLY TIPPING, MASSIVE FINE' and encourage residents to make use of the council's bulky waste service.
Andrew Kirk, Business Manager, Environmental Services, Newark and Sherwood District Council said: 'We are running a big campaign to raise awareness and wrapping one of our refuse trucks is a very cost-effective way to spread the message far and wide. The sheer scale and size mean that people really notice it.'
He added: 'CVW helped to make sure the design was perfect for the vehicle and the quality of the vinyl literally shines through.'
Vinyl also has a lower carbon footprint as it doesn't need to go through a paint booth or the ultra-high temperatures needed to bake paint. For electric vehicles, which are becoming ever more prevalent in council fleets, vinyl is the only safe option for adding graphics and messages to a vehicle after it has left the manufacturer's factory, because the battery packs on an electric vehicle can't be subjected to the high heat processes used when painting vehicles.
Many commercial vehicle manufacturers and waste management companies are advocates of vehicle wrapping to boost their brand and stand out from their competitors.
As Colin McMorine, Senior Sales Manager, Geesinknorba commented after CVW wrapped one of Geesinknorba's vehicles: 'The new vehicle looks superb and will certainly turn heads. It's a very effective way for us to communicate what we are doing to improve the sustainability of the waste industry. The team at CVW have done a fantastic job and the attention to detail is very noticeable. We are looking forward to showing the vehicle off to prospective customers.'