The first-ever zero emission bus fleet in West Yorkshire has been unveiled in Leeds.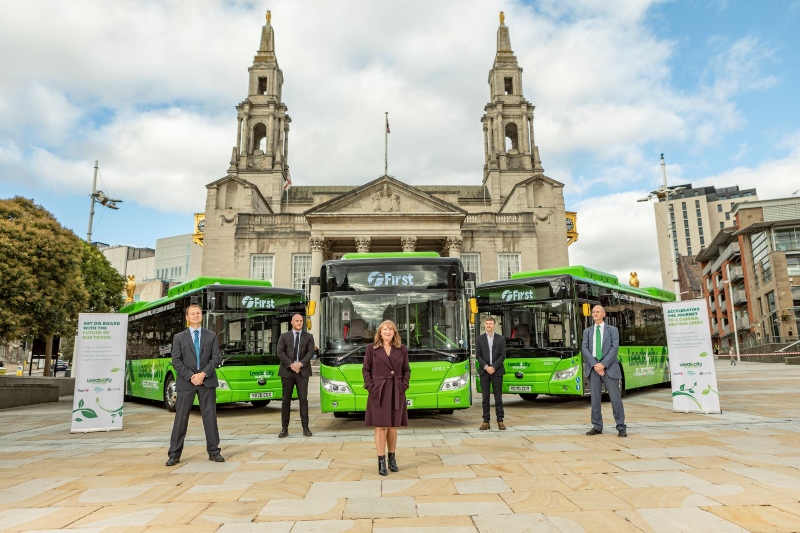 The nine Yutong E10 electric vehicles (EV) represent a multi-million pound investment by First Bus in partnership with the West Yorkshire Combined Authority and Leeds City Council.
They begin operating this week on the Service 5 Halton Moor Circular which includes the Leeds CityBus route through the city centre and will run every 10 minutes Monday-Saturday.
Total investment in the buses and charging infrastructure is £7.3m and includes £1.7m funding from the Department of Transport's Ultra-Low Emission Bus Scheme (ULEB) which First West Yorkshire secured in 2019 with the support of the combined authority.
'Today marks a significant moment in our strategy to switch to a fully zero emission fleet across the region in the years ahead,' Paul Matthews, managing director of First West Yorkshire, said last Thursday.
'We have worked closely with our city and regional authority partners and leaders in their fields in Pelican and Zenobe Energy to combine vehicle, battery and charging technology that heralds a new era in sustainable transport.
'These all-electric buses will enable us to capitalise on the bus priority measures that have just been introduced in the city centre, helping to create cleaner air, reduce congestion and give customers reliable journey times in superior comfort.'
Each Yutong E10 can carry 70 passengers and has a range of 200 miles from one overnight charge, which means they can operate on the network all day without recharging. Smart battery technology on-board also enables the bus to store energy generated when applying the brakes.
It is estimated each bus will save 45 tonnes of carbon emissions a year compared to a Euro 6 diesel-engine bus making a total annual saving of over 400 tonnes of CO2 by the nine-strong fleet.
The vehicles, which herald a new-look Leeds City Electric branding, also feature audio visual next stop technology, USB charging points, Wi-Fi connectivity, LED lighting and are fully air-conditioned.
To compensate for the low noise level when moving, the Yutong E10 has a special acoustic vehicle alerting system (AVAS) fitted which sounds to help waiting passengers with hearing or visual impairment as the bus approaches a stop and also has the BusEYE early warning device to improve road safety with other vehicles and pedestrians.
The Yutong E10 EVs are supplied by Pelican Coach & Bus, a family-owned engineering company based in Castleford which has a 100-year history in transport and is the exclusive distributor in the UK for the buses, which are made in China.
Innovative electricity charging infrastructure for the fleet has been installed at First's Hunslet Park depot in the city by Zenobe Energy. A battery energy storage system (BESS) comprising two giant Tesla batteries - 498kWh and 390kW – will support the power requirements including fleet charging and grid services. The BESS is powered by the grid but returns electricity to support the grid when charging the buses.
The chair of the West Yorkshire Combined Authority Transport Committee, Cllr Kim Groves, said: 'It is great to see these fully electric and zero emission buses being rolled out in Leeds which will give passengers a better travelling experience while benefitting the environment.
'Investment in new vehicles by operators combined with the improvements we are making to the road network to make bus travel more reliable, punctual and attractive, will help cut congestion, improve air quality and contribute to our efforts to tackle the climate emergency.'
Cllr Peter Carlill, lead member for active travel and sustainable transport at Leeds City Council, said: 'I am delighted to see the first zero emission electric buses begin to be rolled out in Leeds. Over the next year I look forward to seeing more of these operating from our new 1,200 space Stourton solar-powered Park and Ride site. It will make more and more people's journeys greener and enhance our efforts to keep the air cleaner in Leeds.
'Re-building people's confidence in using more environmentally friendly public transport is an important step toward achieving our carbon reduction targets and reducing polluting greenhouse gas emissions in Leeds.'