Carlisle City Council is using a new electric van to drive forward an eco-friendly way to combat littering and other enviro-crimes.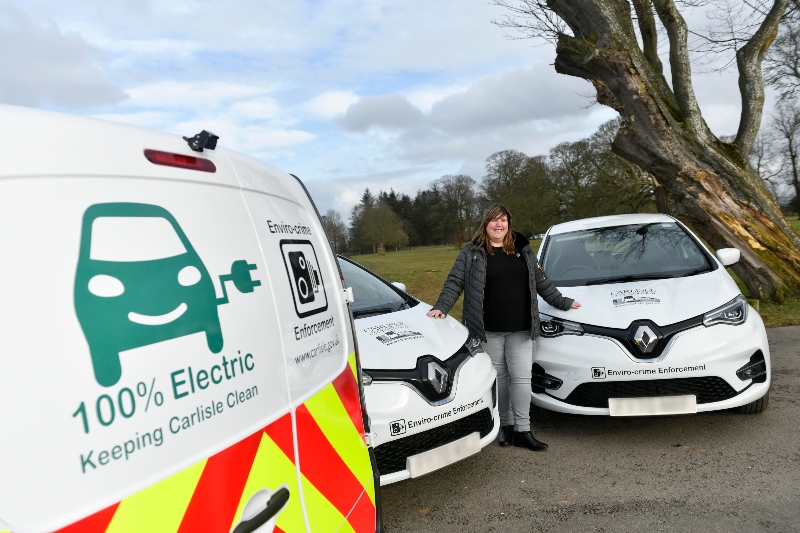 Caption: Helen Graham, Carlisle City Council's Team Manager - Parking and Enforcement, with the new electric enforcement vehicles.
The council has a new fleet of six 100% electric vehicles, including an enforcement camera vehicle. It will be deployed within Carlisle to tackle environmental offences such as littering, fly-tipping and dog fouling.
The fully electric vehicles will also improve local air quality by reducing noise pollution and producing zero carbon dioxide emissions.
Equipped with CCTV, the vehicles use a pan-tilt-zoom system which can be rotated 360 degrees and can be operated remotely.
In Carlisle, fly-tipping has increased by up to a third compared to last year and roadside litter is an ongoing issue. The offence of littering from a vehicle carries a penalty notice of £150 and this can be issued direct to the keeper of a vehicle even if they are not driving the vehicle at the time of the offence.
Cllr Nigel Christian, portfolio holder for Environment and Transport, said: 'We're committed to improving the environment and keeping Carlisle clean. Apart from being an eyesore, roadside litter is a serious environmental hazard and an expensive one too – money that could be better spent in the community. Littering also endangers wildlife and livestock.
'The new electric CCTV van will help us track down those that don't follow the rules. The new vehicle is a safe way of capturing and recording car registrations and, where possible, the actual crime being committed.
'There is no excuse for throwing litter out of vehicles. It's harmful to the environment and puts our staff at risk when they have to clear it up. Wildlife are the main victims when it comes to people's rubbish, particularly wild birds. Protecting animals from harmful rubbish is easy – dispose of your rubbish responsibly by recycling, reusing or simply putting it in the bin.'
Image: Stuart Walker.