Ringway Jacobs has taken on a new fleet of new spreaders to keep the roads of Cheshire East clear of ice and snow this winter.
The highways service provider turned to Roanza Truck & Van for the eight new vehicles, all of which are based on heavy-duty Arocs chassis with ClassicSpace S-cabs and have Econ Engineering bodywork.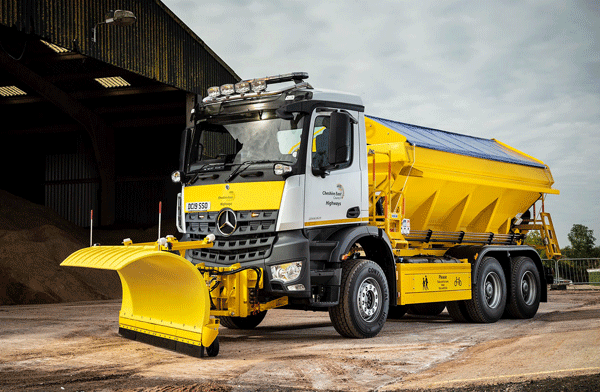 Four are double-drive 2633 26-tonners with 10.7-litre in-line six-cylinder engines producing 240 kW (326 hp). The remainder consists of 4x4 18-tonne 1824 AK variants with high-torque, 175 kW (238 hp) 7.7-litre straight-sixes.
Econ Engineering's bodies – the six-wheelers have 9m3 capacities, while the four-wheelers offer up to 6m3 – are purpose-designed to spread de-icing dry rock salt at a width of up to 12 metres. For snow clearance, Econ's 'E' Plough features a power angling function which enables the operator to alter the direction in which the snow is ejected without having to make manual adjustments on the move.
The Arocs have also been specified with Econ's E-Drive route guidance technology. This system operates the spreader automatically, allowing the driver to concentrate on the road ahead in challenging driving conditions.
The trucks are equipped with recordable five-point camera systems, 'turning left' warning alarms, and nearside proximity sensors to protect vulnerable road users, as well as a reverse radar which supplements the standard-fit reverse alarm and camera.
The new spreaders have replaced leased vehicles by another manufacturer. Roanza Truck & Van Handover Specialist Ben Clark spent a week at a winter maintenance storage facility in Macclesfield, delivering an inclusive programme of product familiarisation to 24 of Ringway Jacobs' drivers.
Ringway Jacobs began work on its current contract with the local authority in October 2018. The agreement covers 2,230 km of highway and is worth around £600 million over 15 years.
The company has been serving Cheshire East since 2011. Over the last eight years, it has secured more than £150 million of additional funding for the borough's roads, won industry recognition for collaboration and asset management, and supported the local community by employing 31 apprentices while also putting work the way of local businesses.
Ringway Jacobs' Head of Fleet David Bonehill commented: 'We favour Mercedes-Benz chassis for spreading applications because of their inherent reliability, and for the power, they give us for pushing on the plough.
'The ride height of the Arocs is a bonus, as the truck's extra ground clearance and relatively elevated seating position make life that bit easier for drivers when conducting snow clearing and spreading operations."
'This significant investment in new vehicles that meet Euro VI emissions regulations reflects our determination to deliver services using the very latest, environmentally-friendly equipment.'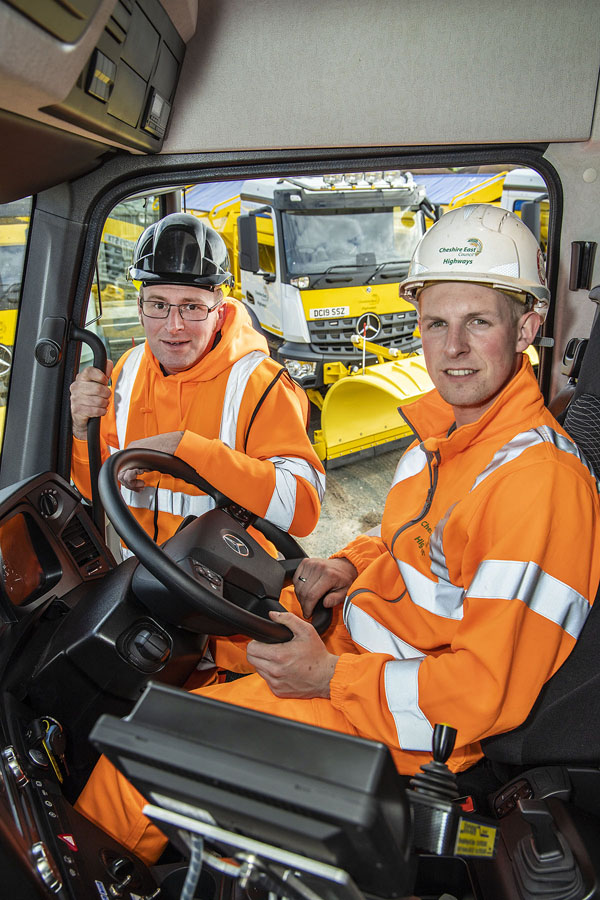 David is responsible for a fleet of 250 trucks and 350 vans. Other recent truck acquisitions from Roanza include 22 low-entry Econics, 17 Actros at 18- and 26-tonnes GVW, and an Actros tractor unit. Most of the Actros rigids and half of the Econics are impact-protection vehicles (IPVs) with crash cushions; the remaining Econics are vacuum tankers for gully emptying.
Commenting on its work with Cheshire East Council, Managing Director Mike O'Neill said: 'We have delivered an improved, modernised service focused on our customer, localism, effectiveness and efficiency over the last seven years. By re-securing the contract for another 15 years we can continue this legacy and deliver an enhanced, innovative, industry-leading service for the people of Cheshire East.'