A fleet of electric cargo bikes and trailers is to be launched in Manchester offering residents a green alternative to cars.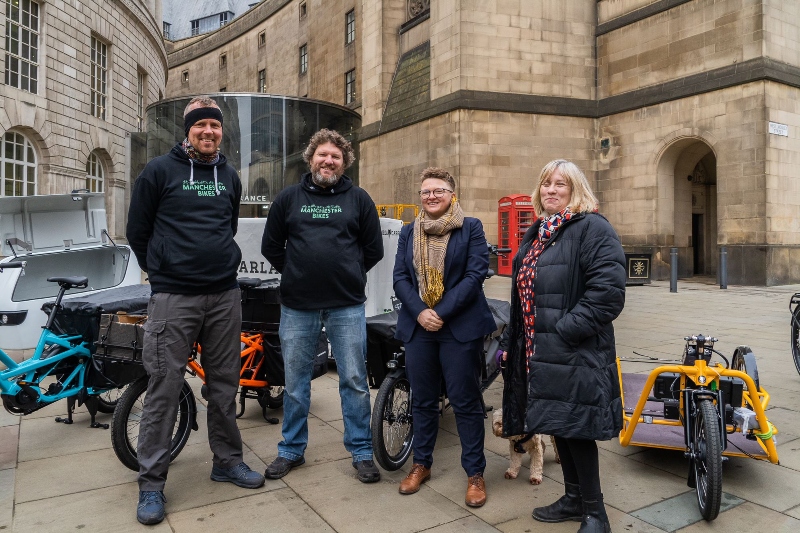 (L-R) Pavel Gajdoš, Manchester Bikes; Chris Leakey, managing director, Manchester Bikes; Cllr Bev Craig, leader, Manchester City Council; Cllr Tracey Rawlins, executive member for environment, Manchester City Council
The 26 electric cargo bikes and six trailers will be available for businesses and community groups to hire but also as an option for residents across the city.
The bikes, which can travel at speeds of up to 15mph, are able to carry a weight of 250kg allowing people to transport cargo with ease, and help reduce reliance on motor vehicles.
The scheme was made possible after Manchester City Council successfully bid for a £173,000 grant from the Energy Savings Trust, supported by the Department for Transport.
'For so many of us the car is the only option we think of when the need arises to transport something from A to B. The roll out of this eCargo scheme is the Council showing that there are alternatives, and we want to be at the forefront of championing them,' said executive member for environment Tracey Rawlins.
'As with any change that touches on the climate emergency, whether that's going vegan, switching energy supplier or making the shift to cycling it can initially be daunting. Schemes like this can and will make a real difference in showing ordinary Mancunians that alternatives work and that collectively we can all make a difference.'
Seven organisations, including the council, will be partners in this project so that a viable and well-used fleet of eCycles can be established in the city.
For public use the bikes start at £12 per day, up to 14 days of usage with checks made before their hire to make sure users have the appropriate level of cycling proficiency to ride.
Businesses will be able to loan the bikes for longer periods of time allowing them to find out if they would work for their business model.
Cllr Bev Craig, leader of Manchester City Council, commented: 'In Manchester we really want to show that there are alternatives to using cars and other polluting means of transport. We know that a complete societal shift is required in terms of how we view transport, and as a council we want to play our part in bringing about that change.
'By demonstrating that affordable and effective alternatives are available to the public we are breaking down barriers that may otherwise prevent someone making a positive change.'
Image: Manchester City Council.