The UK could dramatically reduce carbon dioxide emissions from road freight by installing overhead charging cables for electric lorries on e-Highways, a new white paper says.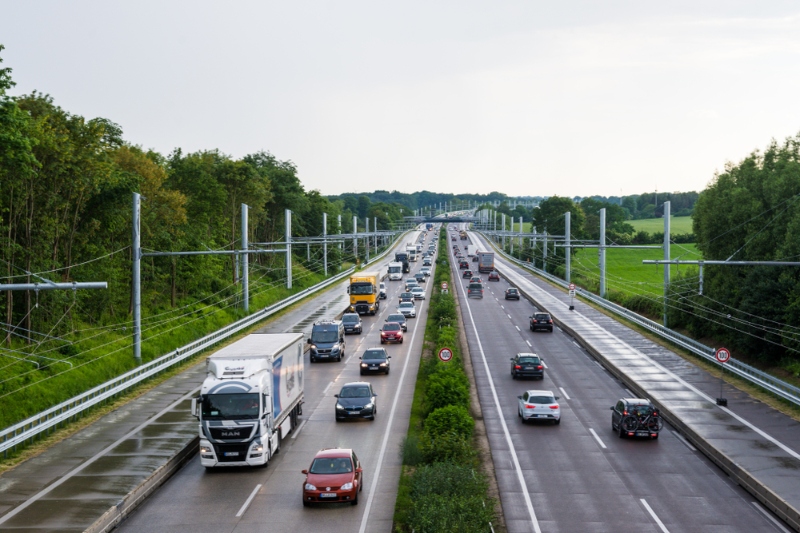 However, representatives from the gas sector argue that e-Highways are an 'unnecessary distraction'.
The white paper, published by The Centre for Sustainable Road Freight, calculates that the installation of overhead catenary cables along 7,500km of the UK's major road network would electrify approximately 65% of HGV-kms, at an estimated cost of £19.3bn.
The investment, it argues, would pay-back vehicle operators in 18 months through lower energy costs and the electrification infrastructure could pay-back its investors in 15 years through electricity sales.
'Overhead catenaries and compatible HGV's are the most energy-efficient and cost-effective solution to fully decarbonise the UK's road freight network,' the paper concludes.
'Their deployment is essential if the UK is to achieve its carbon budgets through to net-zero GHG emissions by 2050.'
The Centre for Sustainable Road Freight also added that the plan is 'technically viable, economically attractive and could be achieved by the late 2030s.'
In response to the paper's publication, representatives from the Gas Vehicle Network (GVN) said, 'Why spend millions on an electric road system, when gas as a transport fuel can deliver the carbon and cost savings needed?'
Isaac Occhipinti, Head of External Affairs, GVN, argued that biomethane 'will deliver substantial financial and carbon savings for fleet managers'.
'It makes no sense to embark on a costly and unsightly project like this when gas as a transport fuel is already operating and delivering carbon and costs savings,' he said.
'Clean, low carbon, renewable gas powered vehicles are the obvious, sustainable solution for the freight and transport industry. GVN statistics show that in 2019 almost 80% of the total dispensed volume of gas for transport fuel was biomethane-a renewable and sustainable low carbon fuel - a 22% increase from 2018.
'By switching from diesel to renewable biomethane gas, fleet operators could see savings of up to £29,000 per year, approximately 52%. In addition, with biomethane, net CO2 emissions could be cut by over 84%.'
Mr Occhipinti added: 'It is becoming increasingly clear that biomethane as a transport fuel can, and will deliver substantial financial and carbon savings for Fleet managers and Government as they adopt low carbon, renewable gas powered heavy vehicle transport.'
Image: Sonja Filitz / Shutterstock.com.