Anders Sjöström, Used Equipment Manager for Volvo CE Sales Region EMEA, explains how choosing Volvo Approved Used machines are as beneficial for a fleet as brand new machines.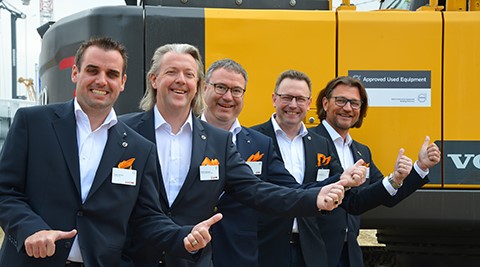 Why might someone consider buying a premium used machine instead of a new value machine?
This choice is a complicated matter for our customers. For example, a small contractor who has just started their business perhaps couldn't afford to buy a fleet of new Volvo machines. Instead, they can purchase a premium used Volvo machine that has been serviced and inspected by our dealers and sold with a Volvo Approved Used (VAU) warranty. It's an excellent investment because the VAU warranty enables customer trust in the product. It also offers peace of mind to know the full-service history of the machine and proof that our dealers have checked it before delivery.

How well do Volvo machines maintain their value?
Used machines are always meticulously inspected and refurbished for another full life before they are put back on the market. The inspection process starts with a clean, then check, and on to a thorough inspection to prepare the equipment for its second life. The investigation comprises 150 different checkpoints carried out by expert dealer personnel. If there are machine parts that fall below 50% remaining wear, these parts will be changed to fulfil the VAU warranty criteria. It's essential to have a service agreement with a local Volvo dealer, in combination with a VAU warranty, to ensure high value. When purchasing a VAU machine, the operator can be sure to receive equipment of the highest standard.

Why is buying a used Volvo machine a good investment for the customer?
Used Volvo Machines are just as reliable as new ones. It does not matter how challenging the application is. Customers are seeking to lower their total cost of ownership, so the demand for used equipment is on the rise. Our offer spans a variety of product lines, and there are several types of machines available to customers from wheeled loaders to articulated haulers to excavators and so on.

Are there any maintenance implications when it comes to buying a used machine?
If you buy a fully inspected and checked Volvo used machine from one of our authorised Volvo dealers in EMEA and you agree to include a VAU warranty, you fully know what you as an end customer will be receiving without any risk. We have worked hard to create a foolproof warranty plan to put our customers' minds at ease.

Does Volvo still offer CareTrack for used machines and if so, why is this valuable?
We do, but it's up to our dealers whether they would like to offer this to the customer. When selling the used machine, CareTrack is important so dealers can advise customers when it is time to carry out a service or individual repairs. It also offers the ability for the customer's technicians to be able to keep full control of the location and operations for machines – the same as a new Volvo machine.

Can you explain more about the Volvo Approved Used App?
The app mirrors dealer stock. It's a handy option to get fast information on available VAU used machines that are in stock in local dealerships. The app also provides machine reports, quality pictures and dealership contact details.