Aebi Schmidt's compact articulated Multigo 150 sweeper provides local authorities, service contractors and other users with a high degree of flexibility, a huge level of versatility and a wide choice of equipment for year-round operations.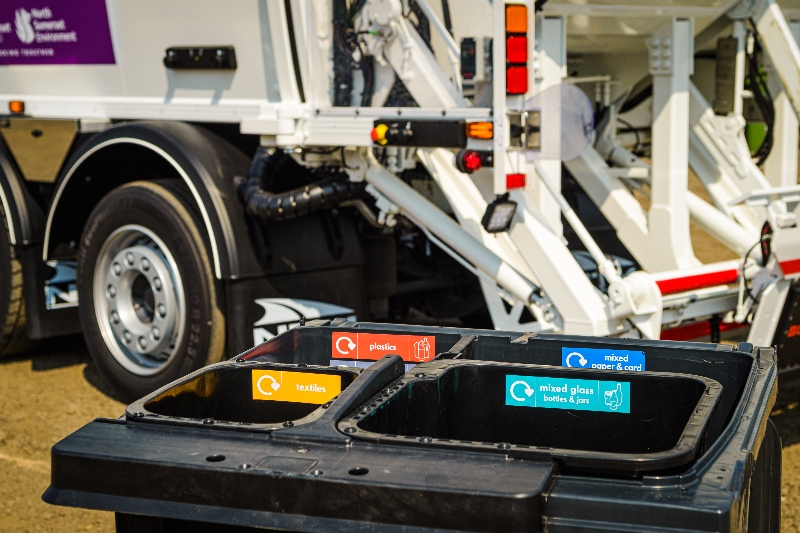 Ideal for street cleaning and scrubbing and for tackling all summer and winter maintenance issues, the Multigo 150, at 3.5 tonnes gross vehicle weight, can be driven by drivers with a standard, UK Category B driving licence.
That makes it ideal for local authorities with a need to meet stringent street cleaning and sweeping responsibilities without the need to employ specialist drivers, while its articulated nature makes it perfect for working around street furniture, such as benches, litter bins and other obstructions, that other rigid body sweepers might struggle to access.
The multipurpose Multigo 150, which has High Efficiency Traction (HEF) controlled hydrostatic 4wd transmission with all-terrain capabilities, comes with a flexible chassis which allows it to be adapted to a number of different uses across all four seasons.
But because it is only one machine with all-season round capabilities, it only incurs one set of maintenance and insurance costs but performs the tasks of multiple machines, keeping total costs of ownership as low as possible.
Some of the uses of the Multigo 150: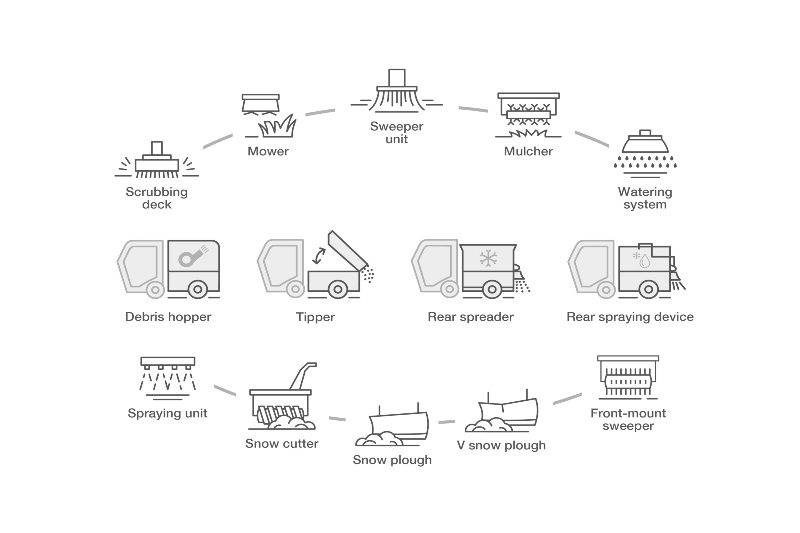 For example, if there is a need for winter maintenance, the Multigo's 1.5 cu3 metre hopper can be de-mounted and the front sweeper brushes removed, to be replaced with a snow plough and spreader unit for winter snow clearing duties.
Alternatively, the hopper can be retained but a scrub deck added to provide the ability to comprehensively tackle stains and other spillages on paved areas such as town squares, pavements and alleyways.
The front sweeper brushes are designed with automatic collision protection, so that, in the event of a collision, the broom can move inwards, while the nitrogen-filled hydraulic accumulators on the broom swivel cylinders ensure that the broom is automatically returned to its starting position.
Changing attachments and functions of the Multigo can be performed quickly, typically in only 5-10 minutes, thanks to a fast-change interface, which ensures an easy and flexible operation all year round.
Offering outstanding green credentials, the Multigo is powered by a 75HP high torque Perkins diesel engine which gives a top speed of 25mph (40kmh) and, thanks to its Stage 5 emission standards, meets green zone requirements, allowing it to tackle high performance tasks while maintaining low emission rates.
To ensure quiet operation with as little disturbance as possible, an eco-mode function lowers fuel consumption and reduces noise levels, which benefits both operating costs and the immediate surroundings - making it a perfect match for cities and residential areas.
The ergonomically designed cabin provides the operator with a good view of the working area, while roll-over crash protection guarantees the safety of the driver.
At the same time, the adjustable steering column, with the joystick integrated within the arm rest, air conditioning as standard and a fully suspended chas¬sis all combine to ensure the Multigo provides a comfortable working environment.
The Multigo offers light, responsive and easy to use controls which make it a joy to drive, while the easily understood and illustrated control panel provide the operator with a clear overview and good understanding of the functionalities of the joystick.
Available as an option are heated side mirrors which are a quick and convenient way to clear away ice, snow and dew and to rapidly improve visibility, an advantage for all seasons, while an optional audible reversing alarm increases safety in city centres and other pedestrian areas.
Amongst further optional extras is a lengthy (8.0 metre) and flexible high-pressure hose and lance which makes light work of cleaning statues, park bins and benches within city centres. The lance is ergonomic and the flow can be adjusted to conserve water.
Meanwhile, a rear-view camera gives a good view of surroundings in confined spaces and improves safety in pedestrian zones, while a high-volume reversing alarm adds to the safety message and can be a requirement in some pedestrian zones.
The new Multigo completes the Schmidt sweeper line-up which includes the Swingo 200+, the Cleango 500 and the Street King 660, to provide municipal, airport and other users with a choice of sweeper to tackle every eventuality.
Daniel Boehler, Product Management Street Cleaning at Aebi Schmidt Group, said: 'The Multigo is a very flexible and highly versatile, all-season machine with low total costs of ownership that provides local authorities with a host of cost-effective options for sweeping, cleaning, watering and snow clearing operations, while being very easy and ergonomically comfortable for operators to use.'
This article was originally published in the autumn issue of LAPV. For a free subscription to the magazine, sign up here.