In a bid to combat the hike in damage claims, Brindley, the largest family-owned car dealership in the West Midlands, recently worked with Sentinel Systems to install a camera and recording device onto one of its vehicles.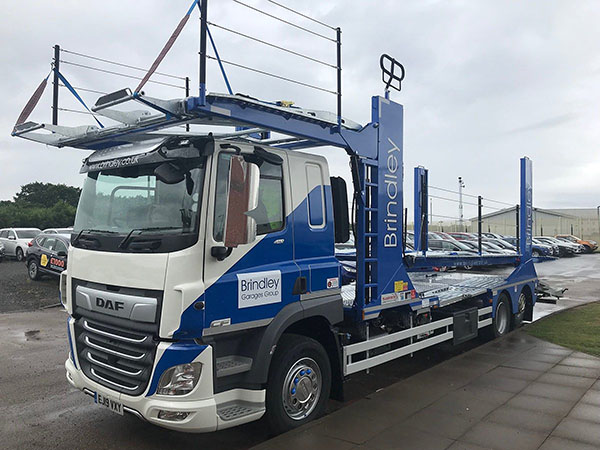 The commercial vehicle safety specialists installed rear, forward and side-scan cameras to one of Brindley's transporters to offer drivers a clear view of the vehicle's blind spots. The camera records up to 30 days of footage and transmits its image to an in-cab monitor, enabling Brindley to use the footage to deal with any potential incidents.
Brindley Garages consists of 12 dealerships spread across Cannock, West Bromwich, Wolverhampton and Tipton, representing significant brands Honda, Hyundai, Kia, Mazda, Mitsubishi, Nissan, Vauxhall and Volvo. The company is also the major Motability supplier for the Midlands, having sold Motability cars to over 4,000 customers, and also supplies businesses in the area with vehicles, servicing and repair work.
With a rise in damage claims, Brindley was looking for a solution to reduce and mitigate the ever-increasing costs and turned to Sentinel Systems following a recommendation from car transporter experts Transporter Engineering.
Darren Nicklin, Transport Manager at Brindley, commented: 'When we ordered our latest car transporter from Transporter Engineering, the company suggested we fit a camera system and recommended we contact Sentinel Systems who are leading experts in that field. Following the initial contact and specification requirements follow up, Sentinel installed a stock AHD system. Once in service, we were so impressed with the five-camera plus MDVR system that we are going to retrofit the whole vehicle fleet.'
Darren continued: 'I've been so pleased with the training, ease of use and clarity of video footage, and backed up by first-class after-sales support it was a simple decision to equip the whole fleet.'
Allan Robertson, Sales Director at Sentinel Systems, commented: 'We are delighted to add Brindley as a valued customer operating these complex vehicle transporters. Manoeuvring these large transporters in tight spaces with expensive cargos on board can be difficult. Installing our camera system enhances the driver's all-round vision, mitigating any potential damage or harm to vehicles or other vulnerable road users.'
Sentinel's 360-degree camera system offers drivers an enhanced view around the outside of their vehicles. It can be combined with Sentinel's four or eight-channel DVRs, allowing for up to 30 days of footage to be recorded. Inside the truck, a seven-inch in-cab monitor is installed with high-image clarity so that anything around the vehicle is always visible to the drivers. The cameras not only reduce the risk of any damage to the vehicle but also lower the chances of injury to personnel.
Installing Sentinel Systems' camera and recording device onto the transporter also allows Brindley to ensure its drivers are prepared when manoeuvring in tight and highly pedestrianised areas.
Sentinel Systems' safety camera package can be customised to meet the individual requirements of each fleet, depending on the size and operations of each vehicle. The camera system can be created using any number of Sentinel's systems, including forward, rear and side-facing cameras for a 360° view of the vehicle's surroundings.