Glencoe Plant Services has commissioned their first Mercedes-Benz Econic skiploader in a bid to 'increase efficiency' when collecting construction waste material.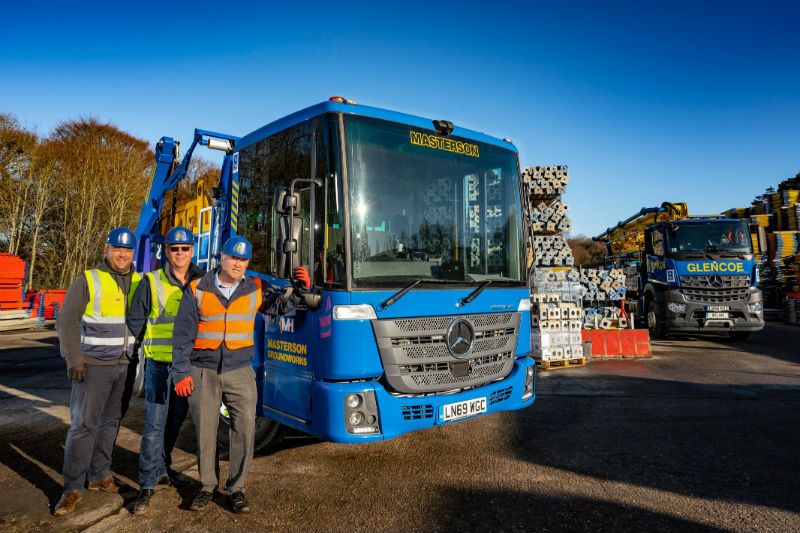 Supplied by S & B Commercials, the new 18-tonne skiploader was chosen for its five-star Direct Vision credentials and is being inspected and maintained under a five-year Mercedes-Benz Complete Service Contract.
An Econic 1830L, the truck is powered by a high-torque, 7.7-litre in-line six-cylinder engine which generates 220 kW (299 hp) and drives through a fuel-efficient, 12-speed Mercedes PowerShift 3 automated manual transmission.
It is fitted with Hyva skiploading gear, and is well-suited to busy urban areas thanks to its panoramic windscreen, and full-height, glazed folding side door. Its low seating position also allows the driver to make direct eye contact with cyclists and pedestrians at junctions or in traffic queues.
Glencoe Plant Services runs a fleet of a dozen other trucks, most of them eight-wheeled tippers and six-wheelers with cranes.
However, over the last couple of years it has purchased two 26-tonners from truck-mounted concrete pump specialist Schwing which are also by Mercedes-Benz.
'Having previously put the skip work out to sub-contractors, we saw an opportunity to gain more control and increase efficiency by purchasing our own vehicle for collecting construction waste material from sites and taking it to recycling centres,' said Damian Kilcoyne, plant manager at Glencoe Plant Services.
'Given that this truck will spend so much of its time in and around London, an Econic was the obvious choice. Safety and compliance were our top priorities, and having driven and learned about the vehicle at an event hosted by the manufacturer we were confident the low-entry Mercedes-Benz represented the best way forward.'
'The great all-round visibility offered by the Econic's cab can only help to make the roads safer for vulnerable road users,' continued Mr Kilcoyne.
'The fact that our driver can see so much more means that time spent at the wheel is less stressful for him, while the vehicle's low height and easy cross-cab access also enhances health and safety because he can always choose the best side from which to exit.'