Oxford City Council, and Pivot Power, part of EDF Renewables, have joined up with Fastned, the European electric vehicle (EV) fast charging company, Tesla Superchargers and Wenea to deliver Europe's most powerful EV charging Superhub in Oxford.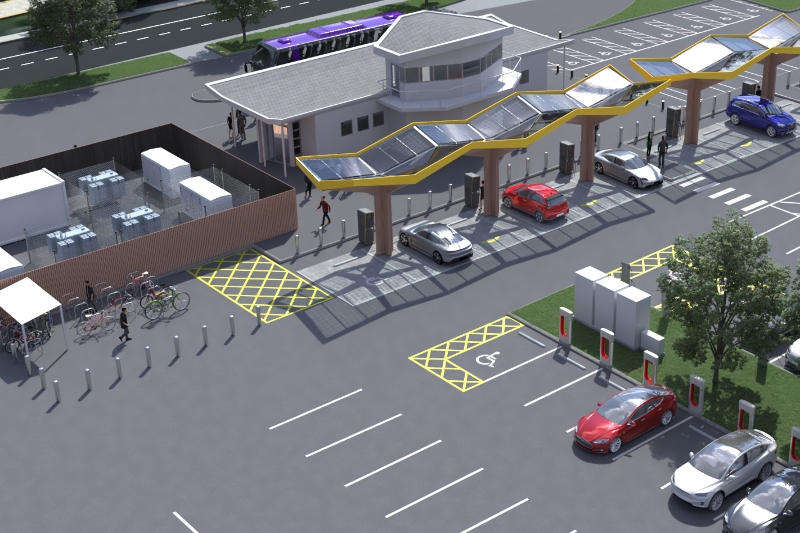 The Oxford Superhub, which will be located at Redbridge Park & Ride, will see the installation of 38 fast and ultra-rapid chargers.
It is the first of up to 40 similar sites planned by Pivot Power across the UK to help deliver charging infrastructure for the estimated 36 million EVs by 2040.
The announcement is a key milestone in the completion of Energy Superhub Oxford (ESO) project, as Oxford is set to launch the UK's first Zero Emission Zone this August.
The station will be powered by 100% renewable energy, partly generated by Fastned's trademark solar roof, and all makes and models of EVs will be able to charge at the highest rates possible simultaneously.
The Oxford Superhub will be directly connected to National Grid's high voltage transmission network, providing the power needed to charge large numbers of EVs quickly, without putting strain on the local electricity network.
It will share this connection with a 50MW hybrid battery – the largest ever deployed using lithium-ion and vanadium flow technology – enabling more renewable power onto the grid.
Cllr Tom Hayes, deputy leader and cabinet member for Green Transport and Zero Carbon Oxford at Oxford City Council, commented: 'For Oxford to go zero carbon by 2040, we need to electrify a lot more of our transportation.
'As an innovative city embracing technologies and change, Oxford is the natural home for the UK's largest public EV charging hub. We are excited to be taking a major step forward in the completion of Energy Superhub Oxford, working closely and superbly with our private sector partners.
'As an ambitious city, we are excited about the prospect of further innovation and investments, building upon our record of transformational public and private sector delivery.'