Oxford Direct Services (ODS) is expanding its electric vehicle (EV) fleet, which means that over 15% of its fleet is now fully electric.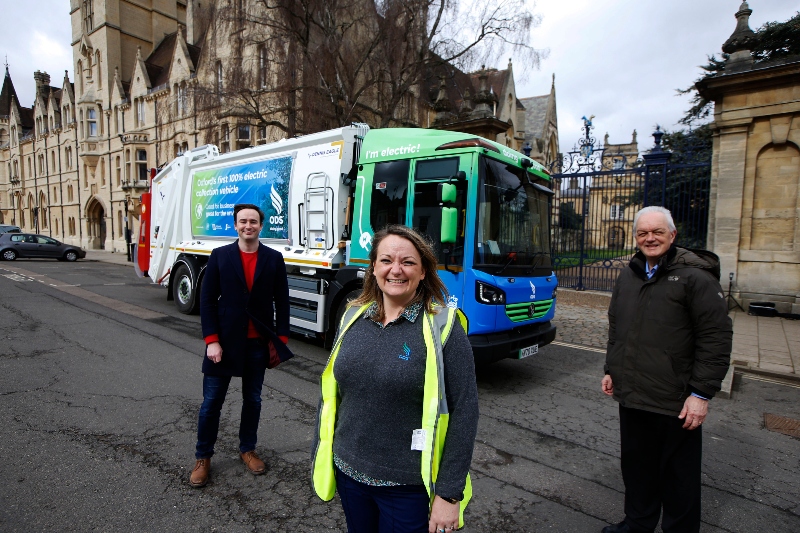 The expansion in the fleet comes as the city prepares to introduce the Zero Emission Zone Pilot, which is set to start this August.
ODS' EVs include cars, small to medium vans and tippers, as well as specialist park vehicles, a sweeper, a digger and a refuse collection vehicle.
According to Oxford's most recent source apportionment study, the transport sector is the largest contributor of NOX emissions in the city, accounting for 68% of emissions.
ODS has a target to make at least 25% of its fleet electric by 2023, and to include many more specialist vehicles within it.
ODS supports the city council's carbon management plan for 2021/22 to 2029/30, which outlines how it aims to become a Zero Carbon Council by 2030. To reach this, the council will need to reduce its annual emissions by 10% (approximately 530tCO2e) every year until 2030 – double its current business-as-usual rate.
The council's main focus of activity to achieve this will be through decarbonising its power for heating systems across its buildings and electrifying its fleet vehicles. ODS shares the council's Zero Carbon goals and the increasing electrification of its vehicle fleet marks a significant step towards this.
ODS' fleet of vehicles (which include Oxford's recycling collection, gritting and road maintenance vehicles), accounts for 31.1% of the council's total emissions.
Conversion is not the only improvement ODS has been working on behind the scenes. The company is also retrofitting many fleet vehicles with new data recording devices (telematics) to provide better reporting on the fleet, driving performance and its fuel effects on the environment. This will help provide accurate data to identify and convert diesel vehicles to electric as well as improving routes, lowering mileage and reducing the impact on the environment.
Owain Pearce, transport manager, ODS, said: 'ODS has been at the forefront of the green vehicle revolution for many years. Evolving our fleet to all-electric power underlines our commitment to preserving and enhancing Oxford.
'The introduction of our new Renault, Peugeot and specialist EVs allows us to improve air quality, reduce noise pollution and contribute to Oxford City Council's action on climate change, particularly in conforming to the proposed Zero Emission Zone, with no impact to the effectiveness of our operations.'
Cllr Mike Rowley, cabinet member for Citizen Focused Services, commented: 'ODS is gearing up for the future in Oxford – and the future is electric. The company is on its way to its 25% electric vehicle target, which will make a very positive contribution as Oxford gets ready to launch Britain's first Zero Emission Zone this August. This is the kind of forward thinking innovation that makes sure ODS remains a "doing good" company that continues to benefit Oxford's residents.'
Four members of ODS building services have also had EV chargers fitted in their homes as part of a trial, partly-funded by Energy Superhub Oxford, to test how EVs work operationally.
The operatives, residing in Oxford and surrounding areas, will have the electricity cost to charge their work vehicles reimbursed. Telematics will be installed to provide data on the trial.
Business sales and account manager, Tracey Tupman, has had an EV charger installed at her home and is very happy with the results.
Ms Tupman commented: 'My job requires me to go out a lot and visit our key accounts and commercial customers and it's nice knowing I am doing this in a more environmentally; sustainable way.
'The vehicle also lasts up to three days without needing a charge, so it's very convenient and having the charge unit at home installed means I can go direct to customer sites rather than charging in the depot.'