Lincolnshire County Council has chosen Mercedes-Benz Arocs to clear its roads of snow and ice through the winter.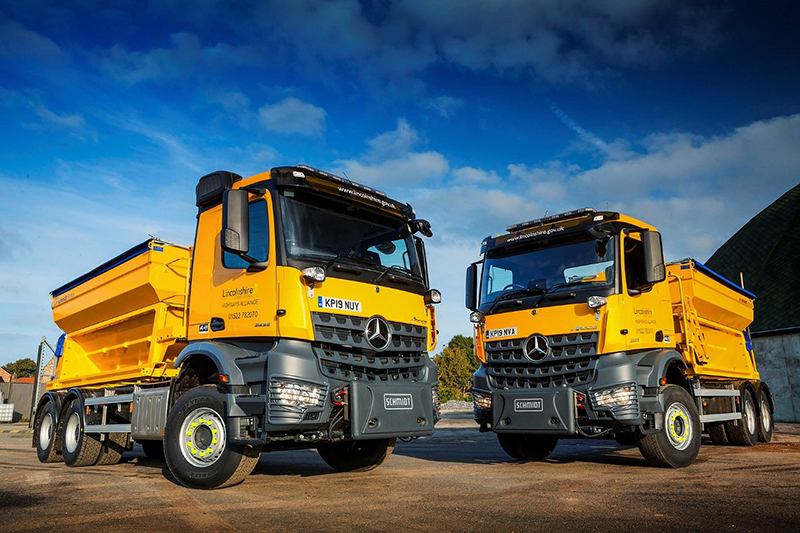 The authority has added these trucks to its fleet in preparation for the onset of the cold season, by taking delivery of four new 26-tonne vehicles from Dealer Intercounty Truck & Van.
All Arocs 2635 models are powered by 7.7-litre 'straight-six' engines which generate 260 kW (354 hp) and drive both rear axles via Mercedes PowerShift automated manual transmissions. Schmidt Stratos hoppers and spreading equipment have been fitted on the chassis, as well as mounts for plough blades.
Lincolnshire County Council's spreading fleet now extends to 47 vehicles, approximately two-thirds of which are based on a Mercedes-Benz chassis. In a break from its previous acquisition method of leasing, however, the authority has purchased its latest trucks.
The 6x4 Arocs are lighter than the Mercedes-Benz eight-wheelers they have replaced. 'While most of our county is quite flat,' explained Darrell Redford, the Council's Network Resilience Manager. 'The Lincolnshire Wolds area of hills and steep valleys is not far from the North Sea and prone to appalling weather conditions in winter.
'We have previously relied on 32-tonne spreaders with 10m3 hoppers to keep these roads open. Those trucks employed a 'pre-wet' salt system, which meant they also had to carry heavy liquid tanks.
'We have now switched to an alternative method which entails using salt impregnated with molasses. The procedure helps it stick to the road, and is highly resistant to being blown or washed away. It, therefore, negates the need for water tanks and means we can put the same size of body on a smaller, 6x4 chassis – which results in a welcome cost saving.'
The vehicles are equipped with computer-controlled spreading systems, into which their routes can be programmed in advance. The spreaders then deposit the correct amount of salt onto each section of road automatically. As well as improving efficiency, the fact that this frees up the driver to concentrate fully on the road and traffic conditions enhances safety.
'The double-drive 26-tonne Arocs is the perfect truck for this demanding role,' said Darrell. 'Salt and machinery are not natural allies, but we know from experience that Mercedes-Benz spreaders are incredibly reliable, and are engineered to stand up to the job exceptionally well.
'They are also outstanding value in terms of their total cost of ownership – even after a long working life of 10-15 years, we anticipate having no difficulty in selling them on for a good price. Like all local authorities, our priority is to achieve the most cost-effective solution for our Council Tax-payers' money, and when it comes to spreading trucks, Mercedes-Benz is our preferred chassis.'

The Mercedes-Benz Arocs has been purpose-designed for construction and related applications, offering high ground clearance and excelling in the toughest of working conditions. The comprehensive model range includes rigids from 18-32 tonnes GVW – or even higher, for off-road applications – as well as tractor units in various drive configurations and mighty SLT heavy hauliers capable of working at up to 250 tonnes.