Organisers of the most popular event on the waste and recycling calendar have called for people working in the sector to sign up and get involved.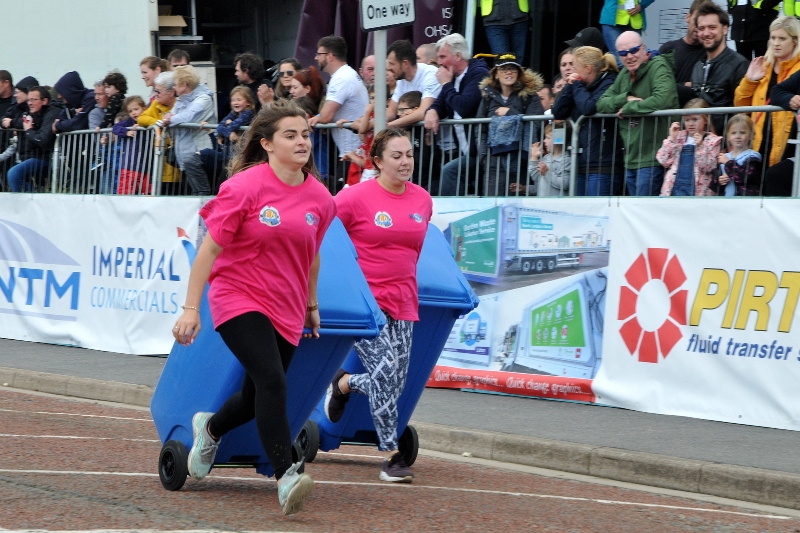 The event brings together employees from local authorities, vehicle & equipment manufacturers, and private waste collection companies, to raise money for the Alzheimer's Society by racing up and down Weston-super-Mare beach lawns.
'We are looking for 32 teams this year, and we'd like to encourage more female teams to enter,' said Spencer Law, founder of the NRC.
'It's not just for collection crews and drivers; staff working in offices, sorting facilities, workshops or out in the field are welcome too.'
The races involve teams of five people - drivers, loaders, workshop and office staff - who race against the clock loading wheelie bins with sandbags before pushing or pulling them 50m to be emptied into an awaiting refuse vehicle.
This is repeated numerous times as the truck moves forward in 50m stages before making a final race to the finish line.
The teams compete in heats throughout the day, two at a time, culminating in a semi-final and final to determine the winner and runners-up.
The winning team will be presented with a trophy and £3000 worth of Centre Parcs vouchers. First place runners up will receive £1250 of Buy-A-Gift vouchers and second place runners up are given £1000 of Buy-A-Gift vouchers.
Mr Law described it as 'a fun way to celebrate the valuable work done by refuse collection crews.'
'The event brings people together from all corners of the waste industry and it's a great opportunity for organisations to do some team building, because everyone, regardless of their job, can join in,' he said.
'We managed to raise over £21,000 for the Alzheimer's Society last year and hopefully we'll beat that this year.'
The headline sponsor this year is City West Commercials.
Paul Ridout, sales director of City West Commercials, commented: 'City West are proud to be headline sponsors and have been long standing supporters of RVS and we are delighted to support such a great charity as the Alzheimer's Society.
'Towns are growing and our Econic trucks are up to the challenge. Last year we welcomed schoolchildren on board our Econic trucks to learn about the safety of our vehicles; to us it's vitally important to share the investment of Mercedes-Benz to the community and the next generation.
'Our trucks participating in the event are industry leading and offers decisively better safety with its unique DirectVision cab so let's see if that helps the racing!'
Last year Grist Environmental managed to hold on to the title for the second year in a row.
Marcus Grist, events director, Grist Environmental and Team Captain/Driver, said: 'It was a great day and the sportsmanship between the teams was fantastic. We love the event and we've never been beaten over the line, although we did come 2nd one year due to penalties. Our families had a superb time and the Alzheimer's Society is a great charity.'
Interested in joining in the fun? Sign up here.