The drive to improve air quality is accelerating the rollout of clean air zones, which put extra pressure on cash-strapped local authorities. The cost-effective solution, according to Carlos Vincente of Eminox, is to retrofit existing fleets with technology that delivers Euro VI compliance.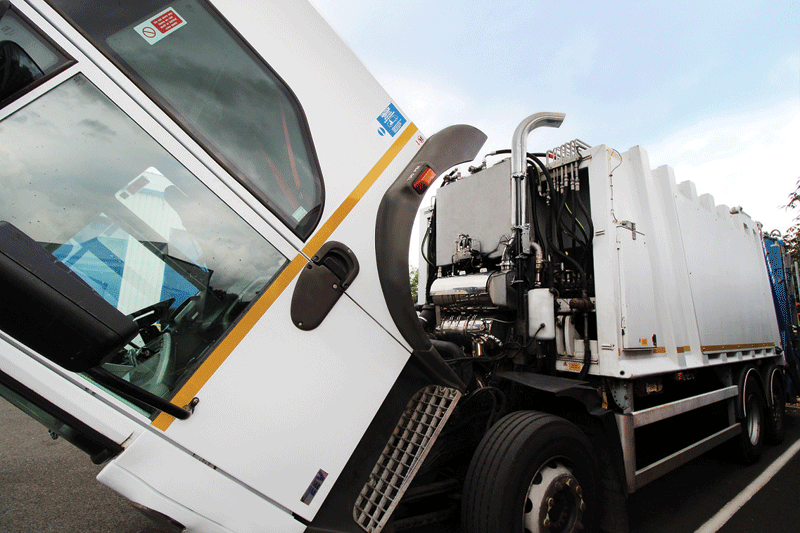 Meeting tightening emissions standards for local authority vehicles
The drive to improve air quality is accelerating the rollout of clean air zones (CAZs) and low emission zones (LEZs) in major cities across the United Kingdom. The London Ultra Low Emission Zone's (ULEZ's) rules will expand to cover the entire Greater London LEZ on 26 October 2020, and major cities including Birmingham, Leeds and Manchester will be introducing CAZs over the next 12 months. In Scotland, the current LEZ in Glasgow will be joined by others in Edinburgh, Dundee and Aberdeen.
The challenge for local authorities and their contractors
To enter and work in these zones without paying daily charges, all vehicles will need to meet stringent Euro VI emissions standards. This includes refuse collection vehicles (RCVs) and specialist heavy-goods vehicles (HGVs) that local authorities rely on for their daily operations. Given that these are high-value investments, replacing them with new vehicles may not be financially viable. Paying a daily charge could also prove a high-cost option and would do nothing to improve local air quality.
The cost-effective solution is to retrofit existing fleets with technology that delivers Euro VI compliance. These technologies need to be independently certified by the Clean Vehicle Retrofit Accreditation Scheme (CVRAS), including approvals for each make and model.
Providing a path to compliance
Eminox has unrivalled experience in creating and bringing retrofit emissions reduction technology to the market. Its solutions are based on SCRT® technology, developed in conjunction with Johnson Matthey, and are designed and manufactured in Eminox's UK factory. Over 6,500 Eminox SCRT® systems have been retrofitted, mainly to buses and coaches in the UK, and are delivering proven real-world emissions reductions.
In preparation for the CAZ and ULEZ deadlines, Eminox is developing CVRAS-approved retrofit solutions for a wider range of vehicles, including RCVs and specialist HGVs. These solutions can upgrade existing vehicles to real-world Euro VI standard at a fraction of the cost of buying a new vehicle and preserve existing investments in fleets. To ensure ongoing emissions benefits, Eminox retrofit solutions are available with telematics systems that provide real-world, real-time emissions reduction data and maintenance information.
Extending options for high-value vehicles
Eminox is helping customers and manufacturers to understand their retrofit needs and develop retrofit solutions for the widest-possible range of vehicles. It is impossible to create solutions for every vehicle due to development costs, but the company's new product development programme is now expanding to meet the more specialist needs of local authorities and their contractors across the UK.
Eminox is working closely with Dennis Eagle, the UK's leading manufacturer of RCVs, to exclusively retrofit its Elite chassis at its service centres in Croydon and Leeds. The Elite solution is already CVRAS approved and available for retrofitting.
Since launching the retrofit service in January 2020, Dennis Eagle has seen strong interest from both end users and hire companies – the latter of which have an abundance of Euro 5 vehicles which, without conversion, will not be viable in many urban areas in the future.
Eminox has also created approved Euro VI solutions for the Mercedes Econic range of RCVs. And in addition to RCVs, there is a growing demand to retrofit specialist trucks due to their high residual values. To meet this need, Eminox has developed the first approved retrofit solution for the Scania P series tipper, and is currently developing solutions for Volvo's FM and DAF CF tippers.
Reducing emissions for non-road mobile machinery
As well as solutions for tippers, Eminox has experience upgrading many other types of construction equipment with CRT® technology. With this expertise, Eminox has been able to upgrade non-road mobile machinery (NRMM) to meet the current requirements of the London Low Emission Zone for these vehicles. In response to the new emissions standards which will come into force for NRMM operating within Greater London from September, Eminox is working on the next generation of retrofit technology. These solutions will be based on its proven SCRT® technology, adapted to the specific needs of NRMM.
Deadlines for emissions compliance across UK cities for many vehicle and equipment types are fast approaching, which means now is the time to make sure your vehicles meet the Euro VI standard. By choosing CVRAS-approved retrofit solutions from Eminox, organisations can ensure compliance and preserve investments in their high-value vehicles.
Carlos Vincente, Retrofit Sales Director, Eminox