Lewisham Council has upgraded its refuse fleet with 24 Mercedes-Benz Econics increasing its fleet to 39 vehicles.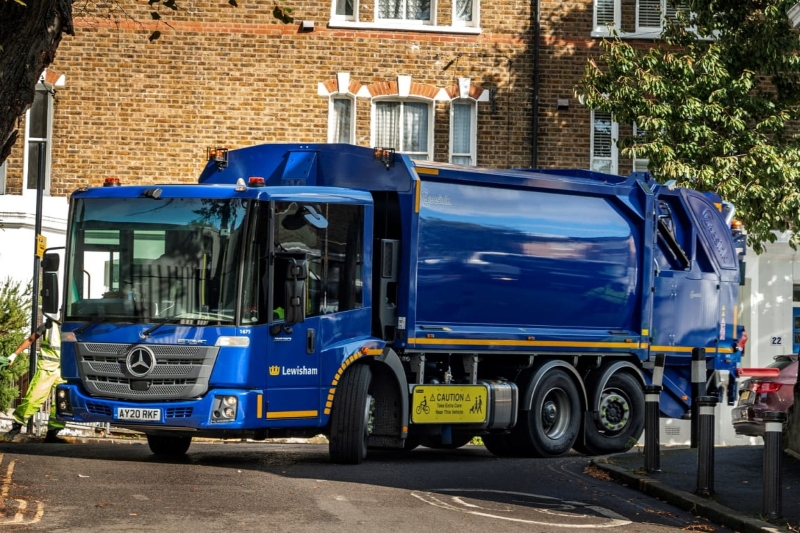 The new vehicles, supplied by the Mercedes-Benz dealer Orwell Truck & Van, are all 6x2 Econic 2630L models with 7.7-litre in-line six-cylinder engines that transmit their 220 kW (299 hp) outputs to the road via six-speed Allison automatic gearboxes.
Painted in Lewisham Council's ultramarine blue shade, the trucks are fitted with Geesinknorba's single-compartment GPM IV compactor bodies, which offer 20m3 capacities and are paired with its combi split bin lifts. They also have rear-steer axles, deep, panoramic windscreens and low seating positions that aid visibility.
The Econic boasts a comprehensive safety specification. Those supplied to Lewisham Council are fitted with Mercedes-Benz Trucks' Blind Spot Camera System, which comprises a seven-inch monitor, two cameras on the exterior mirrors, and others facing front and rear.
The latest Econics are also equipped with Active Brake Assist 4 emergency braking technology, which is programmed to recognise other vehicles at higher speeds, as well as pedestrians when moving more slowly, and is capable of bringing the truck to a complete stop.
In addition to the refuse vehicles, Orwell Truck & Van will be supplying the authority shortly with a Thompsons-bodied tipper grab based on the same 26-tonne Econic chassis. This will be assigned to clean-up duties after incidents of fly tipping.
Noel Everest, Lewisham Council's service group manager for Passenger & Fleet Services, commented: 'We'd fallen behind at one stage with our replacement programme, and took on some short-term rentals to tide us over. In the last couple of years, though, we've upgraded the entire fleet, and I'm delighted that we've been able to do so with more Econics.
'As well as being superbly reliable and offering whole-life operating costs that blow its main competitor out of the water, the low-entry Mercedes-Benz is very popular with our crews, who appreciate its comfortable, air-conditioned cab, and ease of access. It's just a great all-round product.'