Johnston Sweepers has introduced the brand new Bucher City Cat V20e fully electric Compact sweeper to the UK market, adding to the wide range of alternative fuel options available to customers in their sweeper line-up.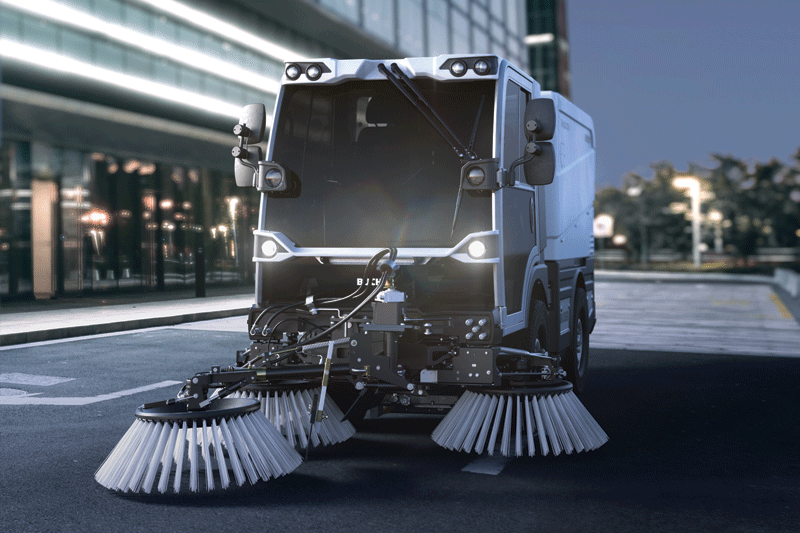 The new 2m3 machine replaces the previous City Cat 2020ev model, and comes with a host of upgrades and new features, including an all-new cab, chassis and suspension system, as well as a higher power battery.
The new battery powering the V20e is a 63kWh Li-ion Bucher Battery Pack, specially designed for the machine. It is 10% lighter than the outgoing 56kWh version, with 12% greater capacity and minimised ageing.
Critical to the electric machine is that the battery has the capacity to perform a full eight-hour work shift, and can be recharged in two to three hours at any public charging station, thanks to its 22kw on-board charger. The new permanently energized synchronous motor now also allows a high proportion of battery energy to be recuperated during braking and downhill driving, unlike the previous model which only charged during deceleration.
The V20e is fully electrically powered, emitting zero emissions and very low noise, allowing the sweeper to be used around the clock in urban areas without disturbance to residents. Even more good news is that the machine's payload has increased from 1450kg to 2100kg, increasing sweeper operations efficiency. Suction has also been increased thanks to the introduction of a brand new fan, with the suction nozzle itself now suspended on a floating mechanism between the front wheels. There is a gimbal suspension for uneven surfaces, ensuring maximum air velocity for best sweeping results.
The new sweeper is fitted with a Bucher gearbox with Torson differential, driven by an electric motor, and with no hydrostatic drive the V20e requires less maintenance and fewer oil changes. It also comes with a new rigid chassis for better drive stability, articulated steering, and a stainless steel hopper for durability.
There's a brand new walk-through cab too, with all-round view and a curved heat-reflecting screen. The cab is fitted with driver comfort, convenience and safety in mind, including an ergonomic multifunction armrest, soft-touch steering wheel, cup-holder, USB charging point, 3-point seatbelts, storage, and a new 10" display to operate the controls. Drive comfort has also been upgraded with new independent wheel leaf spring suspension.
The introduction of the new City Cat V20e puts Johnston Sweepers in the unique position of being able to offer fully electric sweepers in both the Compact and Truck Mounted sweeper categories to the UK market, following the launch of Johnston's pioneering VE652, Europe's first production-available full-size 16ton electric truck sweeper.
The cities of Edinburgh and Aberdeen have been the first to snap up the new sweepers as part of their clean-air campaigns, and a machine is currently on trial with the City of London, the ideal environment for the zero emissions, low noise new electric sweeper. Johnston also offers a CNG powered truck mounted sweeper, and its entire product range is HVO-enabled, allowing the cleaner-burning biodiesel to be used as a drop-in mix and match fuel alternative.