West Lindsey District Council today officially opened its new multi-million-pound, purpose built central depot, which has been two decades in the making.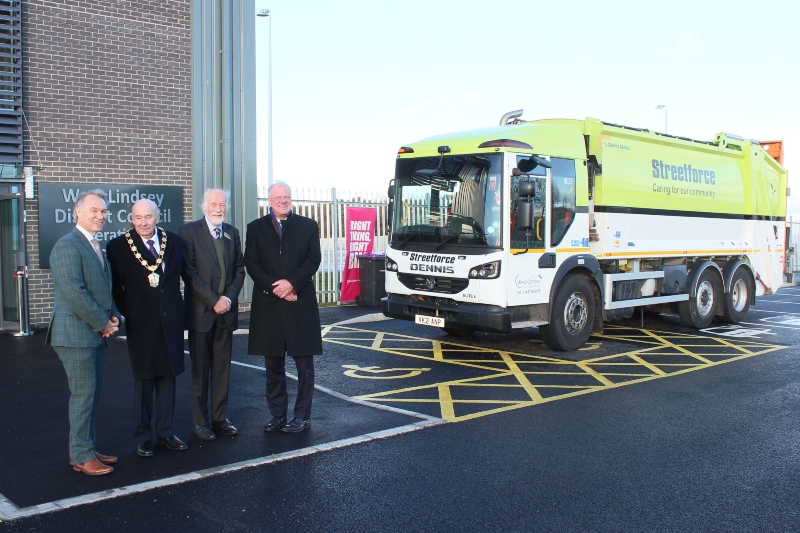 The site, which was constructed and designed by partners Henry Boot Construction and Whittam Cox Architects, was opened by local constituency MP Sir Edward Leigh and is now ready for the council's waste collection and street cleansing operatives to start work.
The previous depots at North Warren Road, Gainsborough, and Gallamore Lane Industrial Estate, Market Rasen, have ceased operations.
Sir Edward Leigh MP praised the new depot and the measures taken by the local authority to reduce its carbon footprint.
Solar panels have been installed on the roof of the building. There are also six electric vehicle charging points, LED lighting and lighting controls, heating, cooling and hot water provided by air source heat pumps, and double glazing to ensure working environments are comfortable for workers in a way that minimises carbon emissions.
'This new site is a delight to behold. Communities deserve and need their local district councils to lead by example, and with this new site, not only is the council putting the security of the district's operational services at the forefront, they are also doing so with the future of the climate in mind, with the installation of solar panels, air source heat pumps, electric vehicle charging points and much more. This is thinking about what communities need from their local councils.'
Commenting on the opening of the new depot, leader of West Lindsey District Council, Cllr Owen Bierley said: 'I was last here at the launch of construction nearly a year ago – and I have to say the work that has been done in that time is absolutely incredible. My congratulations go to the team at Henry Boot Construction and Whittam Cox Architects for their vision and delivery – this site looks incredible, and it is a testament to our district that we have this central HQ for our operational services.
'The truth is we have known for a long time that this has been a must for us in the district. Our main duty at the council is to provide the best possible service to our residents – and having a multi-purpose, central depot gives us the best chance of delivering operational services that our residents can rely on long into the future.'