West Hertfordshire's Dacorum Borough Council has made a second major investment in Mercedes-Benz's truck technology as part of a move to standardise its fleet of 32 refuse collection vehicles.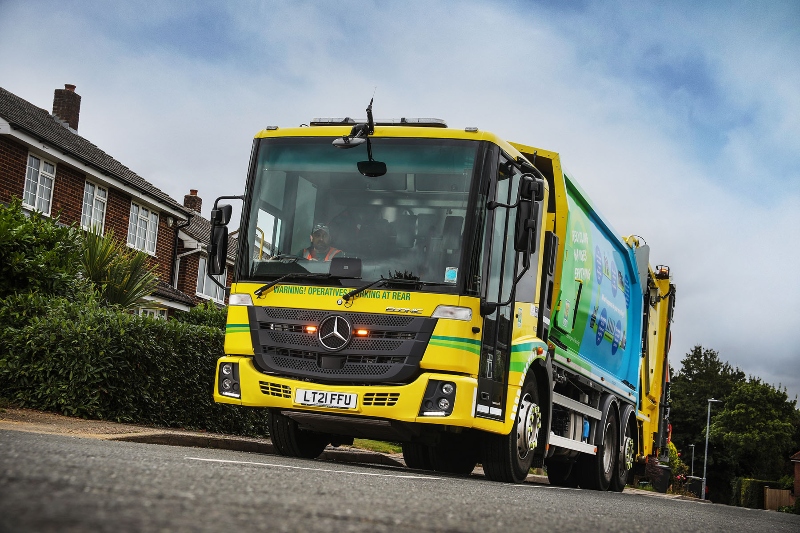 The authority has just added a further 14 Econic refuse collection vehicles to the 11 it commissioned in January 2020. All 25 trucks were supplied by S & B Commercials, which has been trading as Motus Truck & Van since the completion in August of its formal tie-up with another member of the manufacturer's franchised dealer network.
The latest Econics are 2630LL models, in 6x2 rear-steer configuration. They are powered by 7.7-litre in-line six-cylinder engines that transmit their 220 kW (299 hp) outputs via six-speed Allison automatic gearboxes ideally suited to stop-start applications.
The new trucks are fitted with Geesinknorba MF Series 21H25 compactors and Terberg Omnidel Triple lifts. The bodies offer a smart solution for modern waste management by providing two sealed compartments that can be operated independently, preventing any cross-contamination. This means that two waste 'streams' – residual domestic refuse and recyclable food, for example – can be collected and discharged separately.
The Econics are also equipped with ISS four-camera video systems, which have live-view and recording functions, and Cyclear detectors to warn drivers of the presence of vulnerable road users on the nearside.
Those trucks that have been in service since last year have single-compartment Geesinknorba GPM IV compactors and Combi Split bin lifts.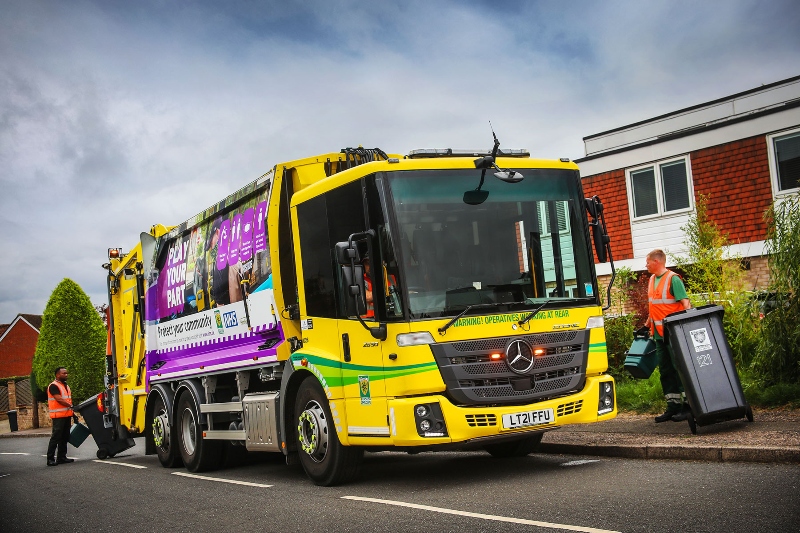 Transport Manager Simon Smith: 'The vehicles we took on last year have not missed a beat. They start first time each morning, and that's crucial as our teams start work at 6.30am. In doing so, they have borne out my previous experience with other local authorities that also operate Econics.'
The improvement in vehicle availability – its previous trucks spent significantly more time in the workshop – was a major 'plus point' in the Econic's favour. However, it was not the only reason behind Dacorum Borough Council's decision to switch to Mercedes-Benz.
'We undertook a thorough evaluation of the various products on the market and trialled demonstrators by several suppliers,' said Mr Smith.
'The package from Mercedes-Benz and Geesinknorba gave us everything we wanted, and at a competitive price, with the promise of timely, customer-focused aftersales support should we need it.'
Standardisation of what was previously a diverse refuse collection has also delivered efficiencies.
'When I took up this role in 2018 we were running vehicles by a variety of manufacturers and in several different configurations,' continued Mr Smith.
'We're now dealing with a much smaller group of suppliers. This means our bin collection teams don't have to familiarise themselves with different vehicles and sets of controls, while the technicians who look after our trucks benefit from specialised training provided by the team at Motus Truck & Van, who also support our workshop with regular parts deliveries. A fleet that's built around a single truck model means parts stock can be much more streamlined.'