CRS Building Supplies has replaced 50% of its truck fleet with the addition of seven new Isuzu Grafter N35.125 tippers.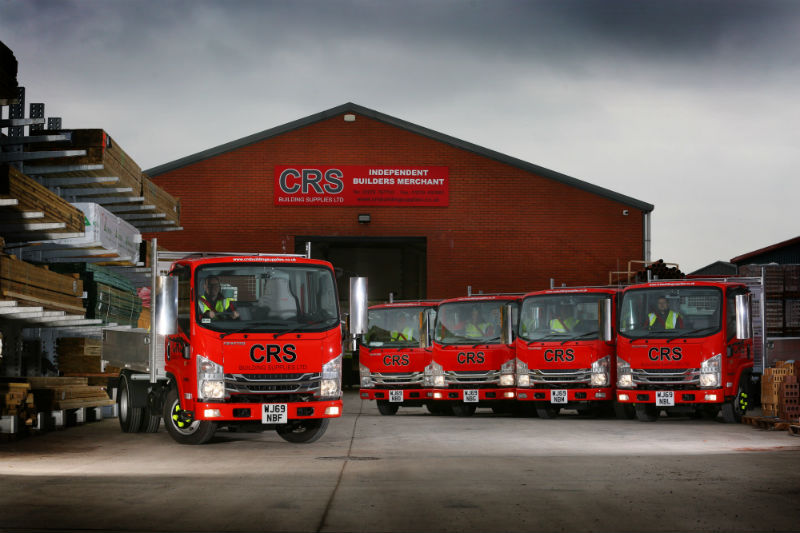 The Isuzu Grafters are replacing an ageing fleet of end-of-life Nissan Cabstars and are more suited to the intensive multi-drop delivery operation at CRS Building Supplies.
'We needed a more robust truck to cope with the increased demands for bulk deliveries on our 3.5 tonne trucks but also a vehicle that will future proof us in advance of the forthcoming Clean Air Zones in both Bath and Bristol,' said Paul Gibbard, transport manager at CRS Building Supplies Ltd.
'Following a demonstration from our local dealer Harry Moore Commercials, we were really impressed by the Isuzu offering at this GVW.'
During the demonstration programme, over 15% of the CRS drivers took part in the trials, which also involved more than half of the company's current eleven branches throughout Somerset.
Mr Gibbard said that the Isuzu Grafter passed its technical evaluation 'with flying colours'.
'We were also really impressed by the overall build quality, especially the running gear and the cab, which gave great visibility and could incorporate our preferred mirror set up.'
All seven Isuzu Grafter tippers, which have a payload of 1100kg, have been supplied by local dealer Harry Moore Commercials in Exeter and are each fitted with TGS tipper bodies.
The Grafters have also been upgraded to include wide angle cab mirrors on both sides, a proximity cab mirror on the nearside and forward-facing recording cameras.
The vehicles will initially be working in the CRS fleet for a four-year period, but this could be extended up to eight years.
'Now that the vehicles have been on the road for a while, we are finding that they are trouble-free in operation and providing us with excellent fuel returns,' Mr Gibbard concluded.
'The robust nature of the Isuzu chassis and the superior TGS tipper bodywork combine to give us a versatile truck that can go to places other trucks cannot go. This allows us to deliver to residential driveways and premises which have limited access.'
Andy Williams, network business manager at Isuzu Truck UK, commented: 'The introduction of the first ever Isuzus into the CRS 3.5 tonne delivery fleet is a major development for Isuzu Truck UK.
'With industry-leading payload and proven on the road reliability, the Isuzu Grafter is the truck of choice at this gross vehicle weight and we are pleased to see that CRS will be benefiting from these advantages over the next four to eight years.'