Derby City Council's new Multihog machine has helped to transform the Streetpride division's way of repairing roads and other related services using just one vehicle.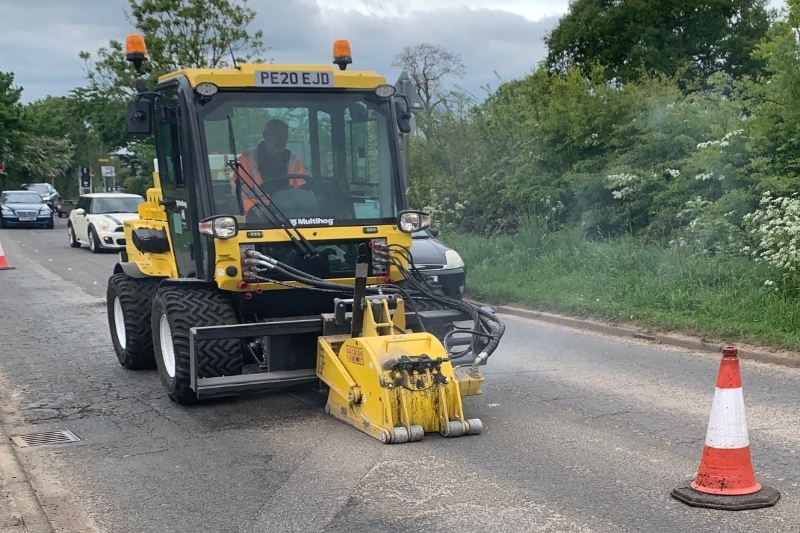 The council have seen road repair output improvements of 250% from 50 square meters per shift to up to 175m² thanks to Multevo's Multihog.
It will also utilise the Multihog for other areas of application, including snow ploughing, de-icing of cycleways and footways, and flood water pumping.
As Dave Kinsey, Head of Highways Asset Management, Grounds Maintenance and Arboriculture, explains: 'Streetpride as a service encompasses a wide variety of duties, so the Multihog multi-purpose ethos enables us to try to do more with less, more effectively than we may have operated traditionally.
'The ability to seamlessly switch from road planning to siding out as well as having that resilience for adverse weather with the flood water pump and winter kit makes this a very valuable asset – we already want another one!'
The increased productivity achieved by the Multihog alone could equate to an extra 45,724.01m² of permanent repairs per year to support the 759Km of network maintained by Derby City Council.
The combination of the Multihog with the 400mm wide front planer attachment, comprising of 53 carbide tipped cutting teeth, provides the perfect platform to consistently cut through any surfaces such as HRA (hot rolled asphalt) and other materials to permanently repair the road.
A rear mounted dust-suppression system holds a 250litre water tank feeding water to the planer teeth to eradicate dust and preserve the life of the picks.
Highways Operations Team Leader Scott McDonald is particularly proud of the positive transition of his team to the Multihog method from conventional backhoe loader equipment.
'The Multihog has allowed my teams to more than double their output over the last 13 weeks,' he said.
'It has been really nice to see the changes within my teams learning new elements of the machines and new ways of working, providing a good quality of repair in the most efficient and cost-effective way.
'We are using the Multihog alongside a paving machine, sweeper and other equipment which has allowed us to maintain high levels of output and ultimately carrying out large resurfacing work in house at cost, reducing the need to rely on outside contractor help.'
The Multihog can also help councils deal with wet weather. The interchangeable, high-volume flood water pump can shift as much as 6,000 litres of water per minute to help prevent flooding in difficult to reach areas. The water pump attachment was developed for the Fire and Rescue Service.
A rear mounted 1200litre stainless steel de-icing sprayer tank with rear sectional spraying boom in conjunction with a front mounted hydraulically controlled snow plough provides added resilience for Derby Streetpride in winter too.
The articulated pivot-steer allows for maximum manoeuvrability around street furniture and parked cars whilst the compact machine size makes the Multihog ideal for city centre footway winter work.
The Multihog can spray a total width of up to 10 metres which can be regulated by the operator from inside the cab to control width and velocity whilst efficiency is ensured by the CAN-bus system to minimise waste.
'The machine and service from Multevo has been second to none,' Scott added.
'When we called on Multevo to support with an engineer it felt like one arrived before I'd finished the call - it was that prompt! This really gives us confidence moving forwards and rivals anyone out there.'