Ken Pink Plant Hire Ltd of Staverton, Gloucestershire, has purchased two more Volvo A25G articulated haulers for its multi-faceted plant hire fleet.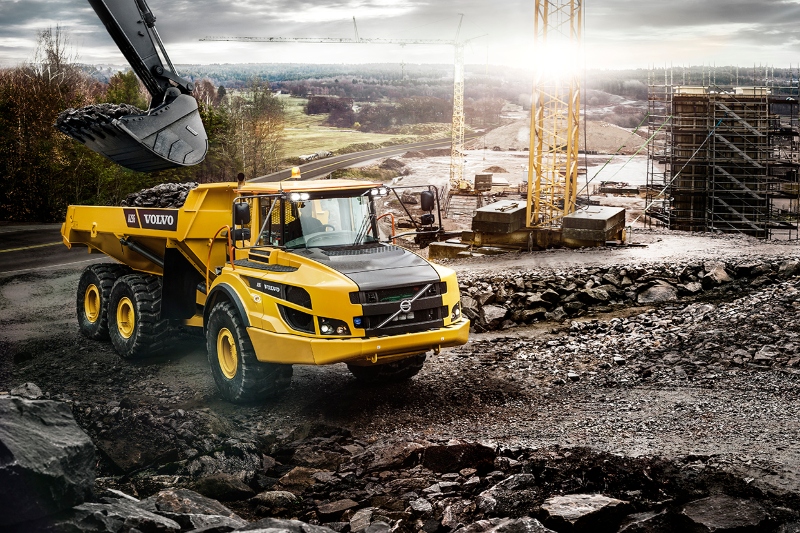 Long-standing users of Volvo Construction Equipment products, Ken Pink Plant Hire Ltd sticks to a rigid change out programme to keep its fleet fresh and up to date. Consequently, these latest two additions are replacing a pair of two-year-old Volvo A25Gs. They also join a third truck purchased last year, along with a thirty-eight tonne Volvo EC380E excavator.
'When it comes to Volvo articulated haulers, we really cannot fault them,' comments Ken Pink's Contracts Manager, Mark Roberts.
'Over the years they have proved to be extremely reliable and productive, while also holding sound residual values when it's time to change them. We've been equally impressed with the EC380E since we purchased it two years ago, being ideally matched to the A25G articulated hauler - loading in just five passes.'
The A25G articulated hauler can carry 25 tonnes with a heaped capacity of 15.3m³. Both machines are powered by Stage IV Volvo V-ACT six-cylinder engines, developing 318 net hp. A maximum torque of 1,942Nm is achieved at a low engine speed of just 1,100 r/min, which results in good fuel efficiency, high performance, quicker engine response, less engine wear and a longer service life.
Purpose built by Volvo, the engine is matched to the Volvo drive train, featuring in-house designed and manufactured transmission, drop box and heavy-duty axles.
The addition of outboard wet disc brakes also ensures that the best use of power and torque is available, even in tough working conditions. Dynamic and predictive gear selection adapts to operating conditions, for improved comfort and fuel efficiency.
Both trucks have been supplied to Ken Pink Plant Hire complete with the optional overhung tailgates, increasing the heaped body capacity to 15.9m³, yet still maintaining the maximum carrying capacity of 25 tonnes.