Multevo have launched their new Multihog CV Sweeper to the UK market which they say offers comfort, efficiency and 'unmatched versatility'.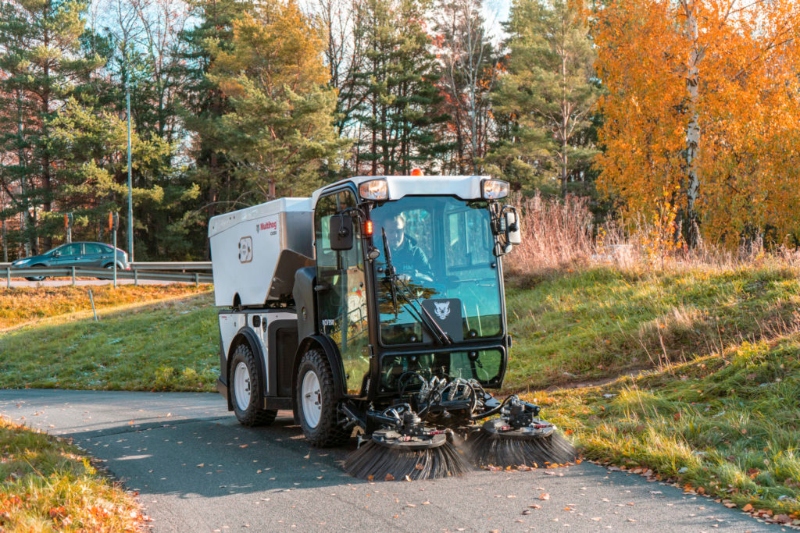 The sweeper is a T2 type approved tractor with Stage V engine emissions - the cleanest available of its class - and enters the market with the highest possible EUnited PM10 and PM2.5 rating available.
This all-terrain vehicle can climb kerbs and steep slopes with ease making it a strong all-rounder. It also has excellent access due to its narrow 1.2M width and centre pivot drive for added manoeuvrability in urban environments such as city centres, car parks and parks.
The drive system has an independent 4-wheel spring, damper suspension and multi-disk breaking. The cab also boasts a high back air suspension driver seat, heated base and back support with adjustable lumber support, head rest and storage.
The driver is able to switch from sweeping to drive mode with the touch of a button thanks to its automated sweeping system. Brushes and arms can also be controlled independently up to a width of 2350mm.
With a gross vehicle weight of 3.5 or 4 tonnes, the unit has an impressive 1.5 cubic meter hopper capacity with 200 litres of fresh circulation water. The heavy duty cooling system, with twin radiators, hydraulically reversible fans and variable speed control, maximises cooling over long durations.
The CV has the capability to be used for a wide range of tasks, including high pressure washing and scrubbing, weed brushing, snow ploughing, gritting, de-icing and cleaning street furniture. Importantly, the sweeper itself can also be utilised for disinfecting public areas.
Multevo are offering a special offer finance campaign limited to the remainder of 2020.