Econic customers stand to benefit as Mercedes-Benz broadens the scope of its Special Trucks operation.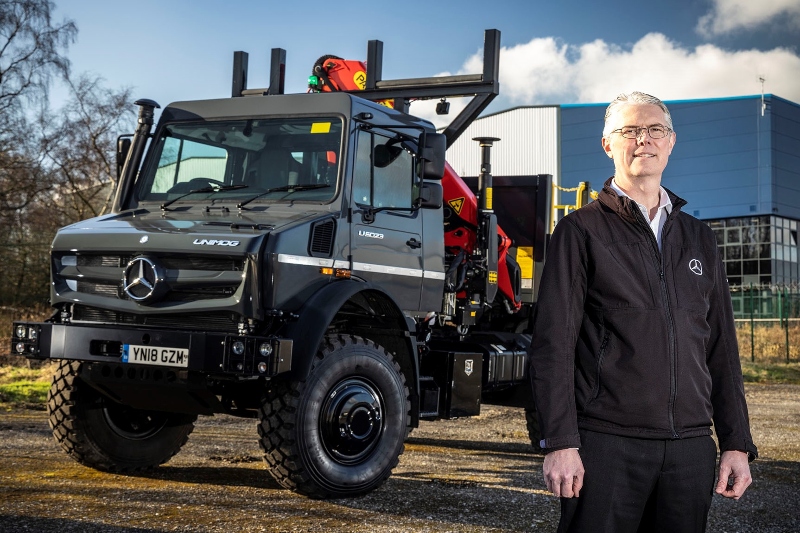 Customers for Mercedes-Benz Econic truck models can look forward to more sharply focused sales support from the manufacturer following a strategic reorganisation at its head office.
Whereas fleet sales of the Econic were previously part of the remit of Mercedes-Benz Trucks UK's Key Account Management department, responsibility for the product has now been transferred to an expanded Special Trucks team.
The new arrangement mirrors the situation in Germany and better reflects the technical expertise of the team dedicated to providing consultative support to dealers and operators of the low-entry chassis.
Simultaneously, a high-level 'job swap' has seen former head of Product & Marketing Ross Paterson take up the position of head of Special Trucks, while Katie Purcell has moved in the opposite direction.
Special Trucks continues to manage customer and dealer relationships relating to Unimog variants – for operators of the 4x4 Mercedes-Benz chassis, it is very much 'business as usual'.
However, in another new development, Special Trucks will also be spearheading the introduction to the UK market of fully electric Mercedes-Benz truck models that produce zero tailpipe emissions.
Waste collection typically entails low overall mileages but relatively high diesel consumption due to the stop-start nature of the work and the energy-intensive body. This sector is therefore expected to be one of the first for which electric vehicles become the norm.
Mercedes-Benz Trucks' Municipal Sales & Special Application managers Philip Chance, Ian Bryan and Phil Oakey are now working alongside dealers to provide consultative support for customers selecting all variants of the Econic.
As well as a 'five star' Direct Vision rating, the Econic is also now fitted as standard with the latest Active Brake Assist 5 emergency braking technology, which incorporates enhanced pedestrian recognition and automatic response capability, as well as an Electronic Parking Brake.
Ross Paterson commented: 'The decision to bring Econic under the Special Trucks "umbrella" will help us to give this important vehicle the heightened sales focus it deserves.
'Our Municipal Sales & Special Application managers are more technically orientated than the average truck sales specialist. Given the nature of the product, and the fact that the bodywork with which these chassis are fitted typically represents a very substantial capital investment, this is entirely appropriate. It's imperative we offer the sales support that customers and our dealers can rely on to ensure vehicles are 100% suited to their requirements.'