Northampton-based landscaping company NP Digger and Paving Services has taken delivery of a Hinowa mini dumper.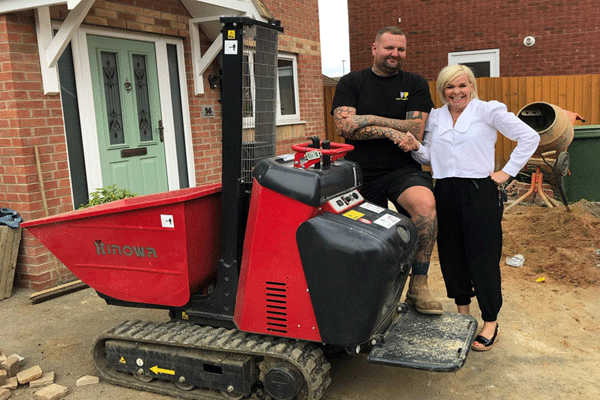 Company owner Neil Prosser says having use of the tracked mini dumper is transforming health and safety and speeding up project delivery.
Access Platform Sales (APS), the authorised UK distributor for Hinowa, has supplied the business with a Hinowa HS701 High-tip Mini dumper.
The stand-on compact tracked dumper bed has a load capacity of 550kg, delivering a rated volume of 0.29m3, yet is 758mm wide, so is compact enough to be tracked through a standard doorway.
With rubber tracks, each 180mm wide, the HS701 mini dumper is also ideal for traversing soft ground or delicate surfaces, such as slabbed paths or patio areas. Models can be supplied with fixed or variable width (up to 1058mm) undercarriage.
Using a vertical lift system patented by Hinowa, the machine can lift its load to a dumping height of 1355mm, so can load directly into a flat-bed truck.
The HS701 can be fitted with a Honda GX270 petrol engine or a Kubota OC95 diesel engine - and all Hinowa mini dumpers have a hydraulic transmission as standard for smooth speed shifting, depending on terrain.
Other models in the HS701 range include a standard dumper bed, a self-loading dumper bed, and a flat skip. Hinowa's full mini dumper range offers capacities from 400kg up to 2.5 tonnes.
Neil said: 'The HS701 is turning out to be one of our best-ever plant investment decisions. It does a lot of our heavy lifting work, which greatly reduces the amount of manual handling my teams do so they can focus their energy on giving projects the quality finish we want. It is an excellent piece of kit.'
The Hinowa HS701 has proved to be a highly cost-effective option, with APS's payment plan working out the same as the outlay to hire machines as the company did in the past.
A project to renew the rear garden of a detached house demonstrates the Hinowa Minidumper's contribution to NP Digger and Paving Services' work.
The garden could only be reached down a path that was 800mm wide, which was no problem for the Hinowa HS701. The mini dumper was then used to move 30 tonnes of material, all in less than three days.
Neil said: 'If we had had to wheelbarrow the material in and out of the garden, it would have taken at least five days longer, and it would have been a real strain on my team.
'The Hinowa Minidumper allows us to complete jobs more quickly, tidily and safely, three things our customers appreciate. They're also impressed with the technology.'
APS Major Accounts Manager Linda Betts said: 'We are very pleased Neil and his colleagues are already seeing the benefits of using a Hinowa Mini dumper. They represent the future of materials handling.'