LEVC has announced the start of production for its new electric van, VN5, which is manufactured in the company's production plant in Ansty, Coventry, the UK's only dedicated electric vehicle factory.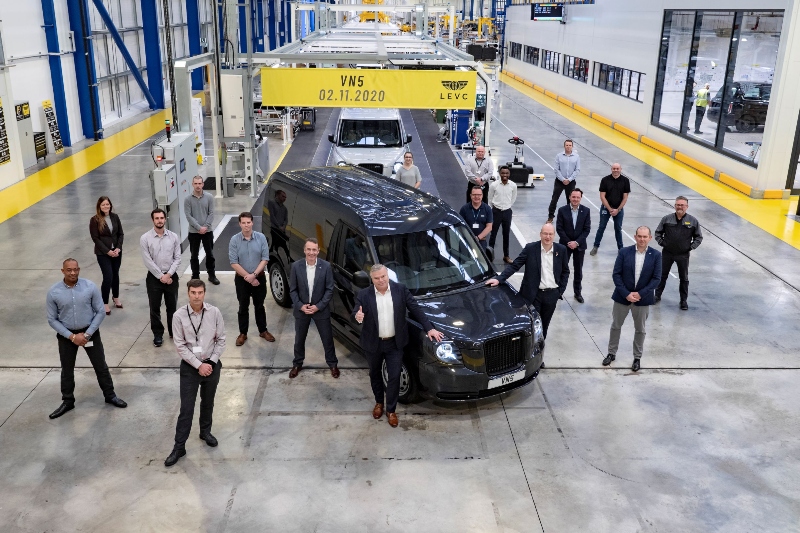 VN5 targets the 'one-tonne' van sector and LEVC – an acronym which stands for London Electric Vehicle Company – expects it to account for around 70% of production volume by 2022. The first vehicles will be delivered to UK customers before the end of the year and a LHD variant will join production in March 2021.
Joerg Hofmann, CEO of LEVC, said that the VN5 'sets new green mobility standards in the industry' and establishes a 'new and highly desirable electric van segment.'
Based on the same architecture and eCity technology as LEVC's TX electric taxi, VN5 can achieve a pure EV range of over 60 miles and a total flexible range of over 300 miles. In addition, VN5 utilises the same strong, lightweight bonded aluminium monocoque and SMC construction.
With up to 5.5m3 cargo capacity, VN5 easily accommodates two Euro sized pallets, and offers a gross payload of up to 830kg. It has been built with a large side-loading door (enabling a pallet to be side-loaded) and a 60/40 split door at the rear to make loading and unloading easy for the driver.
The VN5 project benefited from Government funding through the Advanced Propulsion Centre (APC) which has supported LEVC in the design, development and testing of the new van, including a robust 32-month prototype testing programme.
Business and industry minister, Nadhim Zahawi, commented: 'In recent years, the London Electric Vehicle Company has proven itself to be a pioneer in developing electrified transport in the UK. Now, with Government support, the company is further cementing its reputation with the production of new electric vans in the UK's only factory dedicated entirely to electric vehicle production.
'This is a real boost for manufacturing in the West Midlands and for delivery companies looking to improve their green footprint, driving us towards a future of greener travel both at home and abroad.'
The mayor of the West Midlands, Andy Street, during a recent visit to LEVC's Ansty headquarters, commented: 'Electrification of the automotive industry will be critical to the West Midlands' economic recovery from the coronavirus pandemic, and I am delighted that LEVC is pressing ahead with its exciting plans for the VN5 and continuing to commit to Coventry and the West Midlands.'