Dawsongroup Sweepers has taken delivery of 10 new Isuzu 7.5 tonne RCV's, with this initial order being followed by a further additional order of 20 new Isuzu 7.5 tonne tippers.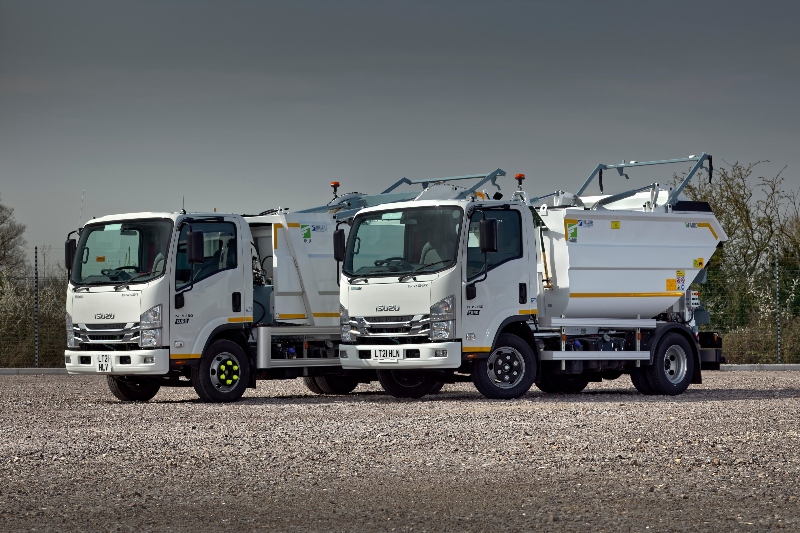 As part of the Dawsongroup, Dawsongroup Sweepers is looking to expand its range of services to current and new customers, with these 30 new Isuzu 7.5 tonne rigids playing an important role in the company's latest business development expansion plans.
'We have had Isuzu trucks on our sweeper fleet since 2015 and they have proved to be an excellent all-round reliable product within our growing asset portfolio,' said Glen Carruthers, managing director, Dawsongroup Sweepers.
'The payload we get from the Isuzus is absolutely brilliant and our customers really do benefit from their total overall performance. It made complete operational and financial sense for us to continue with Isuzu for these latest fleet deals.'
Within the initial order for 10 new Isuzus that have now joined the Dawsongroup Sweepers fleet are five Isuzu N75.150 (E) refuse collection vehicles that have been specified with Farid Hillend Minimatic 8m³ fully sealed refuse bodies. These are replacing five incumbent Isuzus that are operating with an existing customer.
The remaining five new Isuzu N75.150 (E) trucks from this deal have been fitted with Farid Hillend Micro L 5m³ fully sealed food waste bodies that are designed to handle waste streams with high liquid content. These are additional new vehicles to the Dawsongroup Sweepers fleet as part of their focus on sealed food waste collection work for new customers.
With all the vehicles supplied direct by Isuzu Truck UK, this initial order has been followed up by a second order for a further 20 new Isuzu 7.5 tonne rigids, this time comprising a mix of 10 tipper and 10 caged tipper variants, for delivery during the summer.
Mr Carruthers added: 'This second batch of new Isuzu trucks will all be additional fleet vehicles as we continue to grow and expand our fleet into different markets.'
Dawsongroup Sweepers are part of Dawsongroup plc, one of Europe's leading asset rental companies with a rental portfolio of over 35,000 assets. The Sweepers Division was set up originally in 2005 and now boasts a fleet of over 700 different vehicles covering the municipal and industrial cleaning sectors, including the largest rental fleet of self-driving sweepers in the UK.
Lee Barwick, fleet sales manager, Isuzu Truck UK commented: 'Dawsongroup is a household name within the UK commercial vehicle industry and our strength in providing trucks that are ideally suited to the demanding requirements of the municipal market has seen the Isuzu marque grow in numbers within their sweeper division.
'This year's orders for 30 vehicles are testament to the proven performance and operational suitability of the Isuzu 7.5 tonne truck range within the Dawsongroup business over the last six years.'