Engcon UK held its second Big Dig Day of 2019 near Yeovil on October when hundreds of operators came to get hands-on experience with products.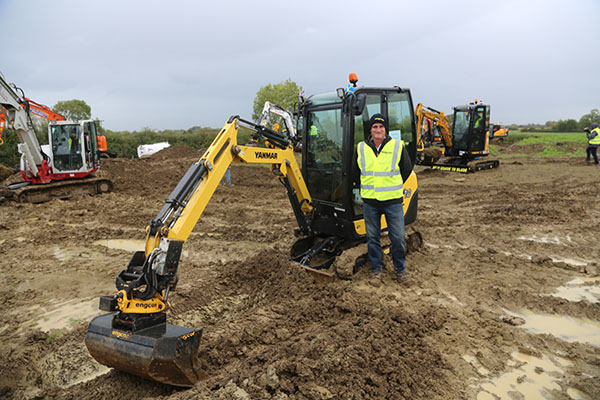 The Yeovil based event took place on 18 and 19 October and was the fourth Big Dig Day to date, proving to be the most successful in Engcon UK's history.
Taking place at the West Country Water Buffalo Farm near Yeovil in the South West of England, a full line up of Engcon's products were on display and ready for operators to try for themselves.
Engcon UK's area sales manager Mark Clare, who organised the event, said: 'What a fantastic couple of days. We are delighted that so many operators took the time out of their busy schedules to come down to our latest Big Dig Day. There's no better way to show operators the value that a tiltrotator and working with Engcon can add to their business than through live demonstrations.
'Everyone had the opportunity to try out the complete range of Engcon products on a variety of excavators from a number of the leading brands on the market (from 1.9-tonne mini-excavators right up to 22-tonne machines). There was a wide range of different models and control systems to experience. We tried to ensure that the Big Dig Day catered for every operator, no matter what brand or system they were used to.'
The Engcon team placed twelve machines located on an acre of farmland in the West Country. They were each equipped with an Engcon tiltrotator and a host of buckets and attachments. Some of the equipment also featured different brands of 2D-and 3D-controls, such as Leica,iDig and Moba, showcasing how these work in conjunction with Engcon's ePS (Engcon Positioning System).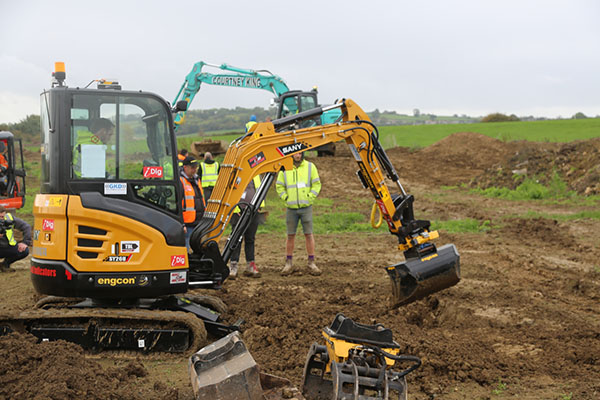 Operators also had the opportunity to experience the safety benefits of Engcon's Quick-Hitch Standard control (QSC) quick coupler locking system, which is now standard on twin-hitch DC2-controlled installations above six tonnes.
In the smallest weight category, visitors had the chance to put Chris Meek's (of CM Plant Hire) Yanmar SV18 mini-excavator through its paces. Chris' machine featured an entry-level Engcon EC02, grading bucket and the SS1 control system.
Chris commented: 'These live demonstration events are an invaluable opportunity for operators to try tiltrotators and realise that they are missing out.
'I first heard about tiltrotators a few years back and was lucky enough to attend the first Big Dig Day in 2017 as a visitor. I attended because of my interest in innovation and to see what all the fuss was. Once I'd had a go and used a tiltrotator, I loved it.
'Fast forward two years and I'm delighted to be an ambassador at this event. It is fantastic to have the opportunity to demonstrate my Yanmar and Engcon tiltrotator to operators that were just like me and let them have a go-to to understand the benefits for themselves.'
At the other end of the scale was Kirk Hough's 22T Hyundai HX220, with an Engcon twin hitch set up, including the powerful EC226 tiltrotator with EC-Oil, Q-Safe quick hitch and QSC locking system, all controlled Leica machine control.
Darryl Simmons, Operator for Kirk Hough, said: 'We wanted to demonstrate the benefits of using Engcon with 3D Leica machine control. It has been a complete game-changer for our business, so the Big Dig Day was the ideal platform to show this to other operators.
'We have invested in this technology because of the versatility it offers us. On the more complex jobs, in particular, it comes into its own. Not only making us much more productive on-site, but also making us self-sufficient. What used to be at least a two-person operation for footings and gradients, for example, is now a one-person job with Engcon and Leica. You do not need an engineer on the ground as there is no setting out or pinning to do. The Engcon system also increases on-site safety too. The result is less stress on the operator, less use of materials, safer and less downtime – making the whole process at least 50% more efficient.'
MJR Civils showed its JCB JZ140, which was equipped with an Engcon EC15 tiltrotator with SS5 controls.
Jack Westworth of MJR Civils commented: 'We carry out a wide range of work, from agriculture to groundwork for housebuilders and developers. 'We have had our Engcon now for a few years, purchasing a used/approved product that was 13 years old at the time. Today, it is one of the oldest tiltrotators here in the UK, which is a testament to the quality of the Engcon manufacturing process and build quality, coupled with the company's service excellence.
'We wanted to come and showcase this at the Big Dig Day because we are proud of our Engcon and want other owner-operators out there to realise the benefits that tiltrotators can bring to their business.
'I wouldn't be without a tiltrotator now, it's a massive asset for our company, making our work so much easier and cleaner and saving us valuable time on each job. My advice to any operator out there is simple – don't be afraid to try this technology out for yourselves; ultimately, it can change your working life forever. Tiltys are the future, which I believe will come out as standard on machines in the years to come. If operators don't start looking at this now, they are going to get left behind.'
Two operators that travelled the length of the country to attend the latest Big Dig Day were James Rowlands, owner of Scunthorpe-based JR Green Build, and Matthew King, an operator for Landmark UK from West Yorkshire.
James commented: 'We wanted to travel down to see how Engcon products work on a wide range of machines. I've recently started my own business and have a second-hand Bobcat E14, but I hired a machine for a job a few weeks back with an Engcon, and I couldn't believe how much more productive it made me. When I gave this equipment back, it was like losing a limb!
'I am now looking at purchasing a 3T Bobcat with an Engcon attachment. So, I wanted to test the technology before buying this for myself. The investment in the Bobcat is big enough as a new business start-up, but with an Engcon as well, that's a big commitment. However, coming down to this event has made my decision so much easier. It's priceless to see it in action and just how much it can add value to my business."
Another attendee, from Yeovil's JB Bespoke Driveways, added: "We've been considering investing in a tiltrotator for some time, and knew it would be an Engcon. Today was a fantastic opportunity to try out the products, and have a chat with other owner-operators as to how a tiltrotator has helped them streamline their processes. We're already looking forward to the next Big Dig Day!"
Another star attraction of the event was the JCB 4CX backhoe loader. Engcon's UK-based engineering team have this transformed this loader into the most advanced backhoe in the world. It was specially developed to meet the needs of Robin Webber of agricultural contractor I J Webber & Sons. Featuring rear-facing joystick steering and a host of other high spec innovations, local JCB dealer HoltJCB took orders for two identical machines from local customers.
The 'Operator Challenge' also went down a storm with visitors, bringing out the competitiveness of operators in a Krypton Factor-style game that tested competency and speed, with penalty points deducted for faults. Elliott Stephens became the eventual winner with a score of 200 seconds to complete the challenge, winning a trip to the Engcon headquarters and factory in northern Sweden for his efforts.
Engcon's team of experts were on-hand throughout the two days to give technical advice, support and to answer any questions that operators had. Besides, a host of complementary brands had their stands at the event, including Speedy Hire, One Point Survey, Arbgear and Nasco Load Indicators.
Glenn Wise, Sales Engineer for Nasco Load Indicators, said: 'As well as being an Engcon accredited Service Partner, we supply a range of safety and productivity solutions like iDig for heavy plant and equipment. This event was excellent for us. We had the opportunity to showcase all of the products we sell and meet our customers and potential customers face-to-face in a great environment.'
Lee Knowles, co-owner of One Point Survey, said: 'The Big Dig Day was a superb opportunity to build our brand awareness and be associated with market-leading brands like Engcon and Speedy. We are an independent business, offering a range of surveying and safety equipment, so the products we supply, like cable avoidance systems and Leica control systems, go hand-in-hand with Engcon's. We want to thank Engcon for inviting us to showcase our products at such a well organised and well-attended event. It was a great couple of days, and we look forward to the next one in 2020.'
Summarising the two-day event, Robert Hunt of Engcon UK, concluded: 'The fact that we had 12 excavators from different manufacturers with varying control setups was a massive attraction for operators. It meant there was something for everyone. The event was more than just a chance to demo the machines though, and it was also a great networking opportunity for visitors to speak to other operators, as well as meet other businesses in our sector like Speedy, Leica, Arbgear, Nasco and others. We are already planning the next edition – the big challenge will be to figure out how to improve on this.'