Biffa's UK fleet cuts £200,000 per year from transmission servicing costs with Allison Transmission's help.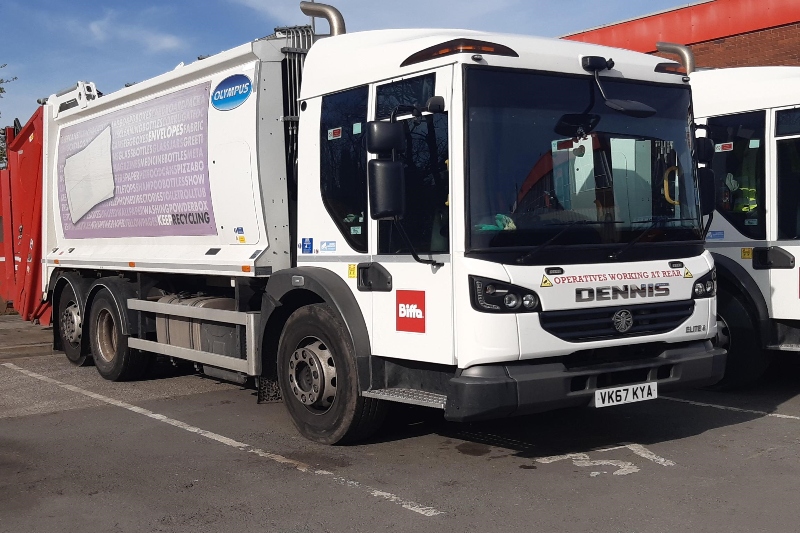 Transmission service intervals are typically based on fleet operators' habits, historic predictive maintenance schedules or standard recommendations from truck OEMs or bodybuilders.
When Allison examined the schedules for Biffa's 1,150 Allison-equipped Dennis Eagle Elite and Mercedes-Benz Econic trucks in the UK, it found that service intervals could safely be extended without diminishing transmission performance, efficiency or durability.
Biffa had previously followed a recommendation to renew the transmission fluid and filters on its Dennis Eagle trucks ¬¬- which run municipal services such as refuse collection - every 12 months, 600 hours or 15,000 kilometres (9,300 miles), whichever came first.
Now, those intervals are extended to 36 months, 3,000 hours or 120,000 kilometres (74,565 miles) with the continued use of Allison TES 295® approved lubricants that are fully synthetic based, engineered and tested to deliver superior performance.
The revised service intervals are also saving Biffa 3,600 hours in labour and vehicle downtime annually. Oil consumption and disposal has also been reduced by 33,500 litres each year, making a positive contribution to Biffa's sustainability strategy.
'Like many fleets, our service intervals are somewhat defined by how we've always done it, with the aim of ensuring our vehicles are well maintained and deliver efficient, long service,' said Steve Lea, Fleet Commercial Manager at Biffa Municipal Ltd.
'We were aware there may have been some over-servicing, but after hearing the recommendations of the UK team at Allison, we were very surprised by the huge £200,000 annual savings to be gained from adopting different practices. We have gone from servicing some double-shifted RCVs twice per year to just three times in their 10-year life.'
'Biffa's big savings show what's possible by reviewing transmission service schedules,' said Nathan Wilson, Account and Market Development Manager at Allison Transmission, UK & ROI.
'Conversations between Allison and Biffa have also resulted in Biffa activating Allison's prognostics capabilities on more of its trucks to further help with monitoring and maximising transmission fluid and filter life. We encourage fleet operators to have a direct dialogue with us about the health, performance and efficiency of their Allison transmissions.'