Allett Mowers is showing its latest electric mowers on its stand K009 at Saltex and in the Eco Village.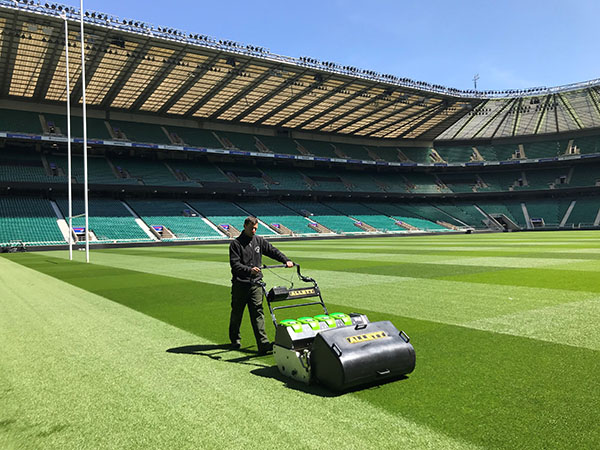 The Uplift 86E is the new 82V li-ion battery-powered stadium rotary mower, designed for debris collection after matches. The machine features twin contra-rotating blades for a high-lift cut and vacuum for increased efficiency, while a full-width rear roller produces perfect stripes.

The cutting width is 86cm (34"), and there is a single point, robust and effortless height of cut adjustment between 20mm – 50mm. A wide grass chute enables unimpeded grass collection, and the moulded deck is constructed to optimise the airflow. The Uplift 86E power source is an 82V battery system which features four quick-change battery docking stations, and the mower can use any number of batteries from one to four. Batteries can charge in 1.5 hours, and they are interchangeable with the C34E in the Allett range. The cells connect to a phone app via Bluetooth, enabling the operator to check battery life, battery temperature and even the batteries' location. There are three brushless motors for maximum efficiency and reliability, two powering the blades and one powering the rear roller. Using batteries as its power source, the Uplift 86E is quiet in operation with low vibration for increased user comfort and productivity.

The Allett C34E on display is a large area walk-behind electric cylinder mower. The mower is excellent for low-sound operation in sports stadia, training grounds and prestige lawns. One of the Allett range of eco-friendly professional mowers, it has all the power to run a series of interchangeable cartridges to verticut, rake, aerate and brush as well as mow with strong striping and an impeccable cut. Operation is smooth with a variable speed control of the cylinder and roller. At the same time, the mower produces extremely low hand-arm vibrations.

The touch button control provides instant half-speed reduction for controlled turning and manoeuvring around objects. There is no petrol with its associated storage and management issues. The C34E batteries are interchangeable with the Allett Uplift 86E eco-friendly battery-powered mower.