National recycling company WasteCare has expanded its relationship with Isuzu by adding its first ever Isuzu Grafter 3.5 tonne trucks to its nationwide fleet.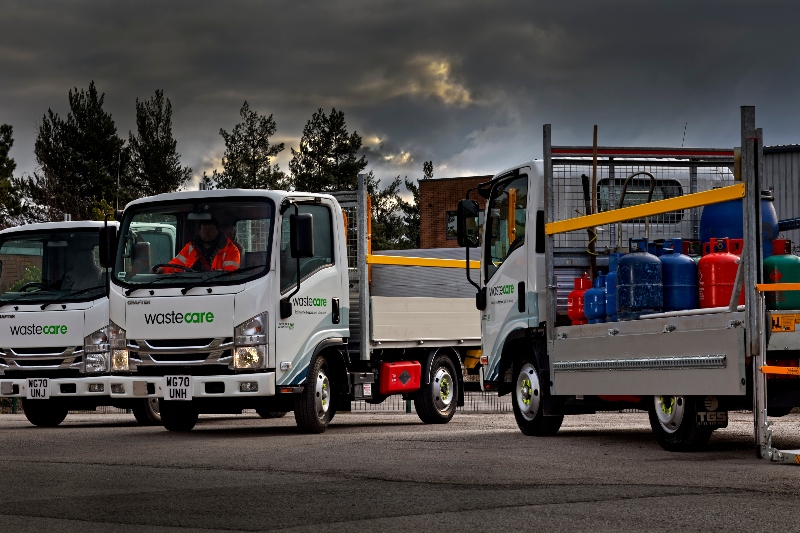 Operating from WasteCare depots all over the UK, 10 new Isuzu Grafter N35.125 (E) dropside rigids are now working in the company's gas cylinder recycling division where they are repatriating used gas cylinders from local authorities, waste management companies and metal traders, as well as most major bottled gas suppliers.
'Historically, we have had excellent service from all our Isuzus as they are practical workhorse vehicles with a proven reputation for reliability across our business. This experience over 20 years automatically eliminated any doubt about switching to Isuzu at a new GVW,' said Peter Hunt, managing director, WasteCare Group.
Mr Hunt continued: 'When we were looking to replace the incumbent vehicles within the WasteCare gas cylinder recycling operation, we were attracted to the Grafter because of its reputable powertrain, its overall compact size and of course, its legendary payload potential.'
The latest Isuzu Grafter rigids have been supplied to WasteCare by Isuzu truck dealer Harry Moore Group in Exeter, who also commissioned the gas bottle carrier bodywork to an agreed WasteCare specification. These vehicles also feature DEL 500kg rear tail lifts and are operating out of nine WasteCare service centres across the UK, typically covering between 80,000 and 100,000 miles during their working life.
'At Isuzu, we pride ourselves on building customer relationships that stand the test of time, and this is particularly relevant to our partnership with the WasteCare Group, who continue to use our trucks across the full range. Our Grafter models continues to set new records in terms of market penetration, and we look forward to seeing these first 10 Grafters working hard in the WasteCare fleet for many years to come,' said Richard Waterworth, head of sales, Isuzu Truck UK.