Scarab Sweepers is a global leader in the design and manufacture of cleansing vehicles for municipal, highway and off-highway applications. Our unique range of single and twin-engine road sweepers are crafted at our facilities in Marden, Kent in an environment where tradition blends seamlessly with technology, preserving the DNA that has made our quality, refinement and innovation the first choice with customers worldwide.
Established in 1979, Scarab has strived towards developing the most environmentally conscious range of truck-mounted road sweeping solutions for over four decades. In the 1980s, while Scarab was prospering as an independent family-run business, the company pioneered the development of the single-engine truck-mounted sweeper – and haven't looked back since. Today, Scarab can justifiably claim to be the pioneer of the truck-mounted sweeper powered from a single engine, and the success of this innovation is a seal of our unwavering commitment to the environment.
We offer a wide range of truck-mounted sweeping solutions – with a variety of body sizes, drive types and alternative fuel solutions such as CNG – to suit the varied needs of municipal and contractor applications, and ensure that every machine offers excellent build quality, superior performance, optimum payload, and is complemented by minimal noise and exhaust pollution.
THE SCARAB ADVANTAGE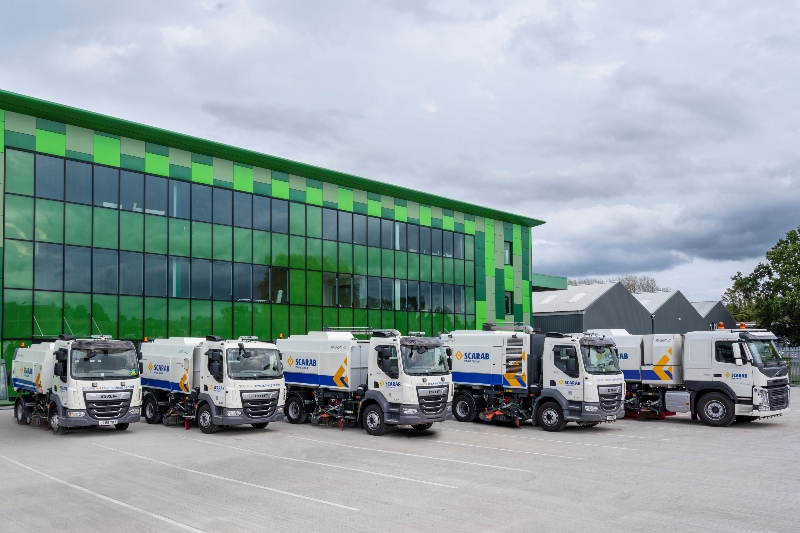 Scarab's mission, which lies at the core of our business vision, is simple: to design and manufacture the most environmentally focused range of sweeping solutions. While still offering a selection of twin-engine solutions for some markets, Scarab can justifiably claim to be the pioneer of the truck mounted sweeper powered from a single engine and continues to lead the market in this field.
Single Engine, Single Emission, No Compromise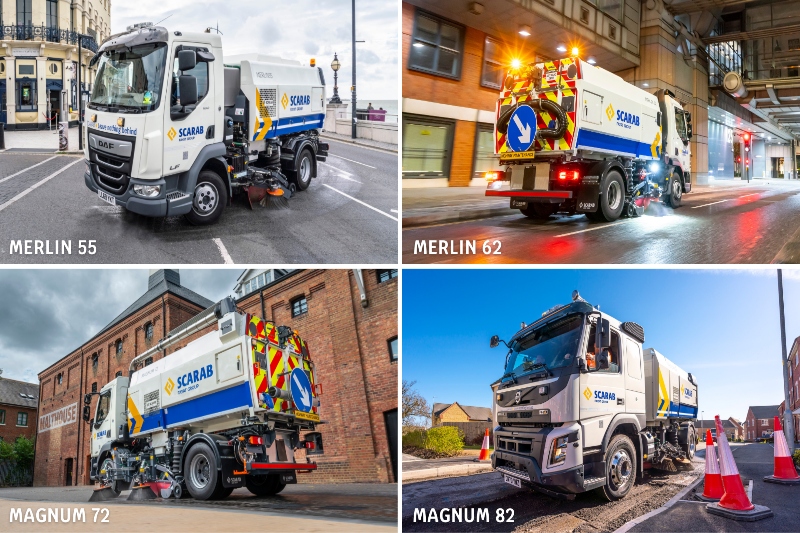 Our single engine machines deliver Scarab's renowned sweeping performance, while offering a host of environmental and operational benefits. Controlling the whole machine from the engine of the truck chassis boasts many advantages, including decreased noise and engine emissions, reduced fuel consumption, less weight, greater payload and reduced maintenance.
From urban street cleansing where on-task endurance is essential for meeting deadlines, to heavy-duty contractor operations that require robust and varied sweep configurations – there is no task too challenging for our truck-mounted sweepers. Scarab's single-engine range is available in a variety of body sizes and chassis weights to tackle a full spectrum of sweeping operations. Our single engine range features:
MERLIN 55 | The Merlin 55 is a full-feature 5.5 cubic metre sweeper on a 7.5-tonne chassis, capable of delivering exceptional cleansing results thanks to its class-leading payload.
MERLIN 62 | Powerful, versatile and available on a chassis in the 10-16 tonne GVW range – the Merlin 62 is at home in both municipal and contractor environments.
MAGNUM 72 | The Magnum 72 has been designed for mounting on a truck chassis in the range of 15-18 tonne GVW and is capable of delivering powerful cleansing results in municipal, construction and road maintenance settings. For the most demanding of heavy-duty applications, Scarab's optional high-speed fan solution takes the Magnum 72's performance to the next level.
MAGNUM 82 | With class-leading suction, high-specification and rugged build, Scarab's flagship Magnum 82 is suited for all civil works and specialist applications including airport aprons, milling work and high-pressure surface cleaning.
Our single-engine sweepers are the number one choice for customers around the world thanks to their versatile sweep configurations, range of high-specification options and unrivalled suction performance.
Twin Engine Truck Mounts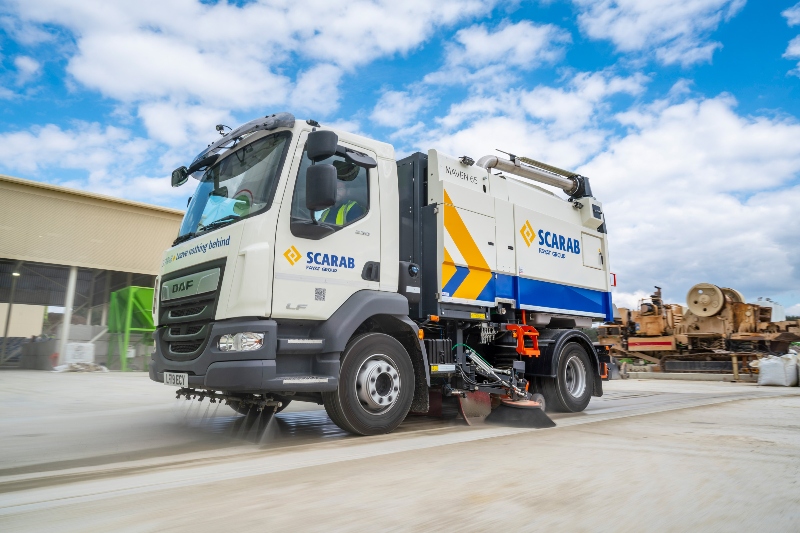 As mentioned, Scarab recognizes that there is still a place in the market for some twin-engine sweepers – that's why we have worked in accordance with extensive customer feedback to deliver our latest machine, the Maven 65.
The Maven 65 is the most recent addition to Scarab's innovative range of sweepers and as its name suggests, it's a trusted expert in its field. Offering powerful suction performance, ample hopper capacity and a host of high specification options, the Maven 65 is an optimal contractor solution with the flexibility of being mounted on a chassis in the 13 to 18-tonne range. This machine was released in the summer of 2021 and sees over 25 product improvements compared to the outgoing M65T.
Compact Solutions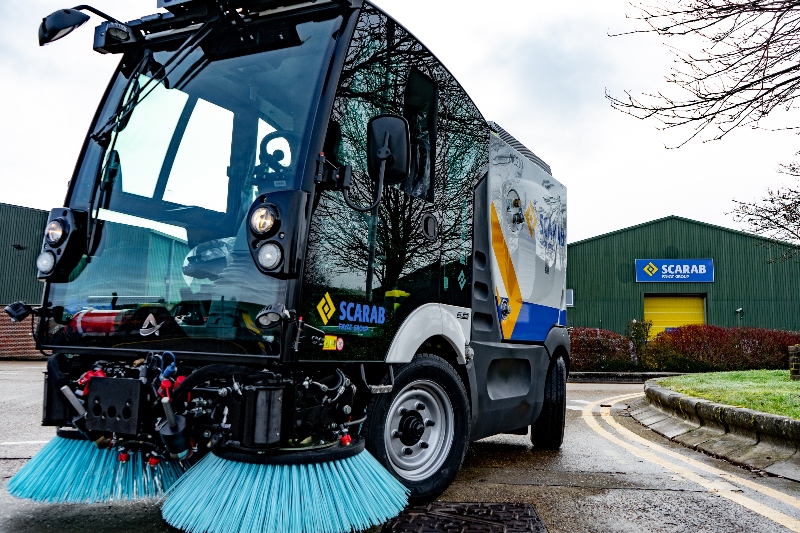 In addition to our truck-mounted solutions, we can also offer a wide range of compact cleansing vehicles via our Fayat Environmental Solutions sister companies, Mathieu and Ravo. With vehicles ranging from 1m3 - 5m3, including innovative electric solutions, to provide full fleet solutions to our customers.
ALL UNDER ONE ROOF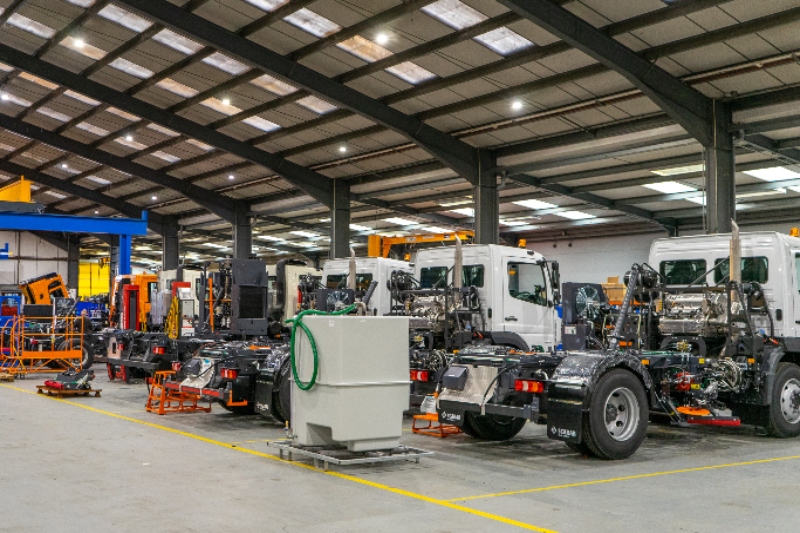 Extensive research, expert engineering and in-house design are the core of Scarab's product development – and for these reasons, our machines are the trusted choice for customers across the world.
Scarab has built industry-leading products, from sheet metal upwards, for over 40 years in our facilities in Marden, Kent. Here, our long-serving, dedicated workforce expertly crafts each machine throughout a 167,000 square foot facility in an environment where safety, quality and innovation are prioritised.
We distribute our machines fully built from our factory and, for specific machines and markets, we can export our sweepers as skid units around the world for mounting to local chassis in the country of destination.
UNRIVALLED AFTER SALES SUPPORT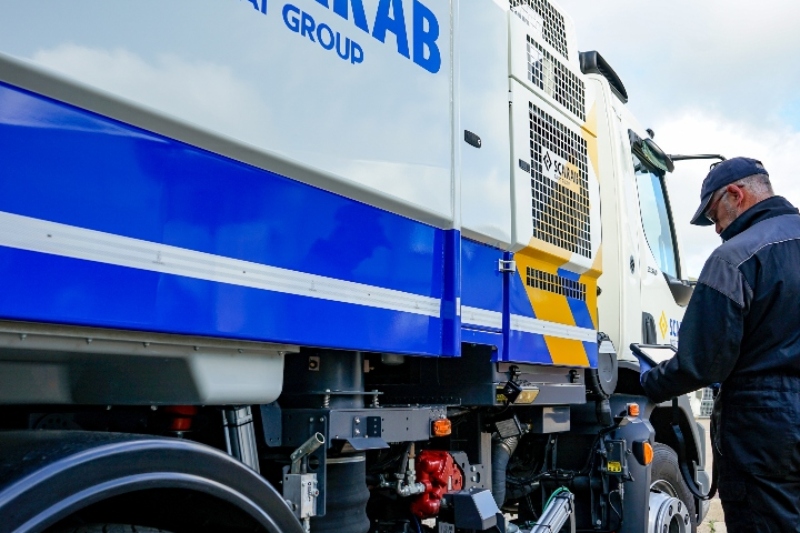 Scarab's industry leading After Sales care is one of the cornerstones of our customer commitment and for this reason, we offer an extensive range of support functions to ensure all our sweepers remain in peak operational condition for as long as possible.
With servicing plans, Repair & Maintenance contracts, technical support and training available, as well as a dedicated parts warehouse stocked with genuine Scarab parts ready to be shipped around the world, our customers have the peace of mind that they have Scarab's expert support for the lifetime of their vehicle.
To discover more about Scarab Sweepers, or our range of cutting-edge road sweeping vehicles, please visit: www.scarab-sweepers.com
Company Contact Information:
Scarab Sweepers Ltd.
Wheelbarrow Estate,
Pattenden Lane,
Marden, Tonbridge, Kent, UK.
TN12 9QD
E: scarab@scarab.fayat.com
T: 01622 831006