A housing association in Oldham is celebrating the arrival of brand new 'environmentally friendlier' vans provided by its vehicle partner, Specialist Fleet Services Ltd (SFS).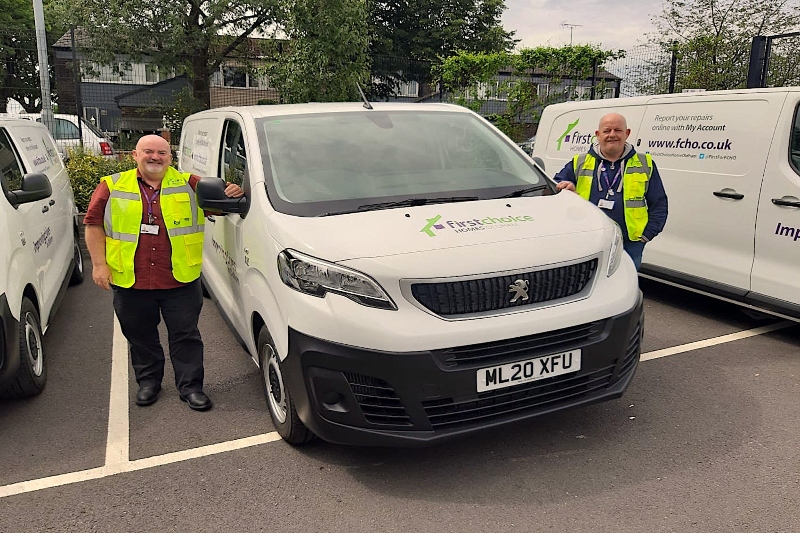 The first set of new vehicles, which arrived at First Choice Homes Oldham's (FCHO) headquarters last week, have 'Ad Blue' technology to eliminate 99.9% of particulates making them kinder to the environment.
The five-year contract with SFS comprises the provision and maintenance of approximately 90 vehicles to enable the Property and Neighbourhood Care teams to service over 11,000 houses across the borough. The remaining fleet is due to arrive by early 2021.
Dave Thomas, Head of Property Care at FCHO, said that a key feature of the contract is to support the local economy.
'Supporting the local economy is one of our priorities as an organisation and now more than ever, businesses need our support due to the impact of coronavirus,' he said.
'The pandemic has hit many businesses extremely hard, so we're making sure we're using local suppliers wherever we can. We've developed great links with many Oldham-based companies over the years and we're looking forward to furthering these positive working relationships with the arrival of our new fleet.
'As well as this, our new fleet is much better for the environment, so it's a win-win.'
FCHO looks to renew their fleet every five years, with the most recent tender process occurring earlier this year. SFS were the successful winners for the fourth time running.