The plant and machinery hire business Dormer Plant Hire has taken on an Isuzu 7.5 tonne long wheelbase rigid, fitted with a beavertail body to join its all-Isuzu fleet.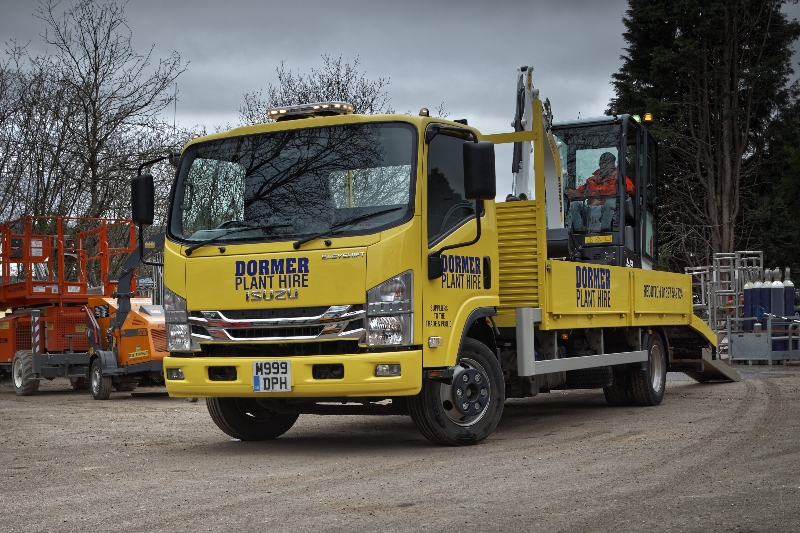 This latest Isuzu N75.190 (E) rigid will be working in the Dormer Plant Hire fleet for a minimum 10-year period, carrying a diverse range of equipment from 3 tonne excavators through to small cement mixers, and even gas bottles.
Working on five-day week deliveries, this new vehicle is replacing a 10-year-old incumbent Isuzu that has just completed 10 years' of successful service with Dormer Plant Hire.
The long association between Dormer Plant Hire and Isuzu goes back over 20 years, as director Matt Dormer Plant explains: 'We bought our first Isuzu in 2001, it was a 'Y' reg 3.5 tonne delivery vehicle, and it was that good that we have never had any other make of truck in our fleet since then.
'We are completely converted to Isuzu for all our delivery vehicles. You cannot fault them. They have a reliable powertrain, a well-built chassis and, matched to the durable DEM Transport beavertail body, they are the perfect truck for our intensive delivery operations.' The latest Isuzu 7.5 tonner was supplied by local Isuzu dealer, Aquila Truck Centres.
'From the very early days of Isuzu Truck here in the UK, the plant hire industry has always favoured the Isuzu marque when it comes to reliable delivery vehicles,' said Andy Williams, UK network business manager, Isuzu Truck UK.
'Dormer Plant Hire, like many companies in the industry, has grown its business hand in glove with Isuzu and its part of our DNA to build strong long-term working relationships with our customers, to ensure that they operate the best trucks possible for their businesses.'