Local authorities are on the front line when it comes to addressing the climate emergency. With transport electrification already key in meeting the UKs environmental commitments, more and more heavy machinery manufacturers are developing their electric and hybrid technologies to combat climate change too.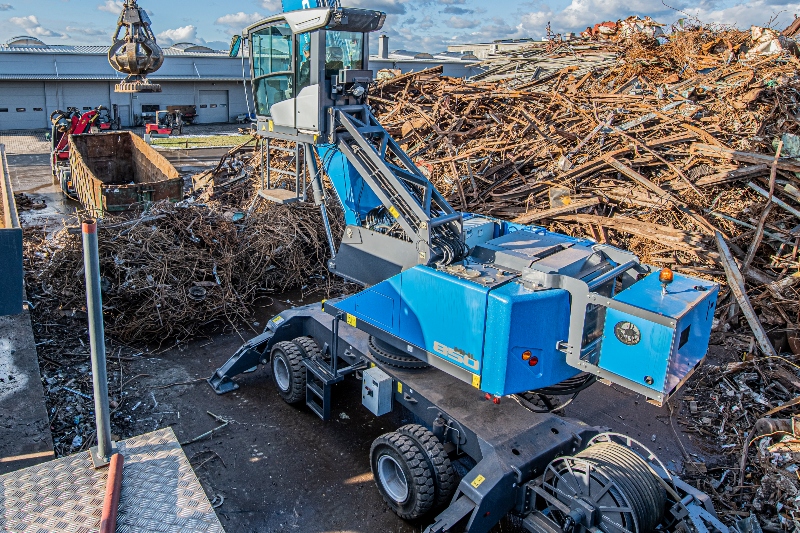 Sean McGeary of Blue Machinery (Central) Ltd, official Terex Fuchs machinery dealer for the UK, explains: 'This technology has been long established for almost a generation across Northern Europe with huge incentives for businesses to invest in electric machines. In the UK market, we are not "re-inventing the wheel" we are simply borrowing the learnings and experience of the OEM's to supply our own home market. There is an accelerated attitude of change towards these new methods and at Blue we feel well prepared to service our customers.'
Today the attitude to electric and battery powered vehicles and machinery is changing rapidly with many authorities already investing in electric-powered cars, vans, sweepers and refuse trucks. The investment into the two 35-ton electric powered material handlers, the first of their kind in the UK, demonstrates Lancashire Renewables Ltd's commitment to clean air.
Supplied by Blue Machinery (Central) Ltd via national contract hire specialists, Contract Plant Rental, Lancashire Renewables Ltd looks set to make an impact with their new electric-powered machines.
Lancashire Renewables Ltd Procurement Manager, Alistair Pope, explains: 'Following an open and successful tender, Contract Plant Rental fully understood and supported our operational requirements to the fullest extent; with their selection of the Fuchs MHL850F promising to be a formidable piece of equipment.'
'Lancashire Renewables Ltd are excited at the prospect of a continued relationship with Contract Plant Rental and the support to move towards more environmentally friendly equipment,' he adds.
In addition to the increasing drive to reduce emissions across the country, the recently announced abolition of red diesel, a popular fuel used in the heavy machinery sector, means come April 2022 many businesses are set to see a significant rise in their fuel bill. This will lead to an increase in the demand for electric machines.
Now is the time for companies to consider replacing their traditional diesel-powered machines for new cost effective electric/hybrid machines. The Fuchs MHL850F electric drive material handler is designed and built specifically for waste, scrap and port applications, destined to be reliable, economically efficient and environmentally friendly.
On long-term hire by Contract Plant Rental, the Fuchs material handlers offer zero emissions, no exhaust gasses and significantly reduced noise and heat output. The low energy consumption enormously reduces the environmental impact and the low maintenance costs provide a huge benefit.
Not just better for the environment, the electric powered material handlers offer more efficient working hours, reduced operating costs, up to 60% saving compared to diesel-powered equivalent machines all without compromise on the performance and quality. The electric motor means low operation and service costs as oil changes, servicing of moving parts of the diesel engine and refuelling are no longer necessary. As an additional benefit, the full torque is immediately 100% available when operating which gives more output than traditional diesel-powered machines.
Richard Creighton, Operations Manager for Contract Plant Rental, says: 'As electric cars become a staple on our roads, it's only natural that all diesel-powered plant will be heading in that direction. Its advantages in terms of running costs and operator health benefits make it the obvious choice for a wide and varied number of applications.
'We owe it to the next generation to look for processes that not only look after our own health but also that of the planet. The move to electric machines powered by carbon neutral solar and wind power will be a natural progression from its diesel-powered predecessor.'
Set on creating a cleaner and more sustainable future together, Contract Plant Rental look forward to working with local authorities nationwide to help combat climate change.
This article was originally published in the autumn issue of LAPV. For a free subscription to the magazine, sign up here.