Access hire specialist Elavation Platforms has placed an order with Access Platform Sales for Hinowa spider platforms worth over £1m.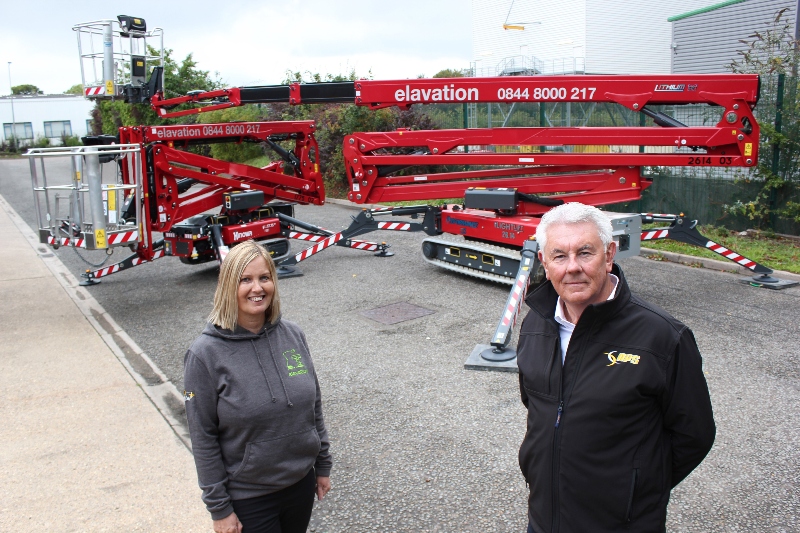 It is the biggest order APS, Hinowa's UK and Ireland distributor, has received for the Italian-made tracked platforms in 2020.
Over the coming months, Elavation Platforms in Milton Keynes, will be taking delivery of models from across the Hinowa spider platform range, including the TeleCrawler13, the first spider platform with all-electric drive motors.
The latest arrivals have been two Hinowa Lightlift 26.14 Performance IIIS spider booms and a Hinowa Lightlift 17.75 Performance IIIS.
Elavation Platforms operations manager Dan Gonzalez commented: 'We're very confident that Hinowa spider platforms, backed by the service provided by APS, are the right choice for us.
'We've been operating Hinowas for many years. They have excellent working heights and reach, are very light and compact, and they're well-built and reliable.
'They're also packed with performance and safety features liked by our customers. We have a long and strong relationship with APS which gives us additional confidence that this will be a very good investment for Elavation.'
APS managing director Steve Couling said: 'We're delighted to be able to support Elavation Platforms as it takes this important strategic step. 'The confidence Dan and his team has in Hinowa reflects its position as the leading spider platform brand in the UK, a position built on clear performance advantages.'
Elavation Platforms' new specialist equipment manager Mandy McClement-John said she was looking forward to getting the new Hinowa platforms out to customers.
'Hinowa platforms have come into their own as contractors realise they're perfect for operating in difficult to reach space, such as gardens, housing courtyards and office atriums,' she said.
'The lithium electric and bi-energy versions are also increasingly popular for working around hospitals, care homes and schools, where quiet and zero-emission operation is often stipulated.
'I'm confident that there will be strong demand for our expanding Hinowa spider boom fleet. The combination of Elavation's experience in marketing spider booms and Hinowa performance is a winner.'
APS will be supplying machines with maximum working heights from 13m to 33m, and across all power formats, including bi-energy, diesel, diesel/mains electric, and lithium battery all electric.
For example, the Hinowa LL 26.14 provides a maximum working height of 25.7m, maximum outreach of 13.m, unrestricted basket capacity of 230kg, yet is just 990mm wide when stowed for tracking.
The Hinowa LL 17.75 has a maximum working height of 17.06m, outreach of 7.5m, the same unrestricted 230kg basket capacity, and is just 790mm wide, allowing it to be tracked through a single doorway or garden gate.
All spider platforms in the Performance range have one button touch set up and stow, dual speed tracking for enhanced productivity and Hinowa's renowned highly responsive proportional controls.
Elavation Platforms is also planning to place orders with APS for the new Hinowa TeleCrawler13, which redefines spider platform technology.
The lithium battery electric telescopic boom lift has a maximum working height of 13m and outreach of 6.4m. Unlike all other spider platforms, it has no hydraulic systems.
This gives the TC13 a unique 'zero-low-zero' sustainable performance: zero emissions, low noise and zero risk of environmental pollution from hydraulic oil spills.