Dudley Council has added another Mercedes-Benz Econic to its fleet.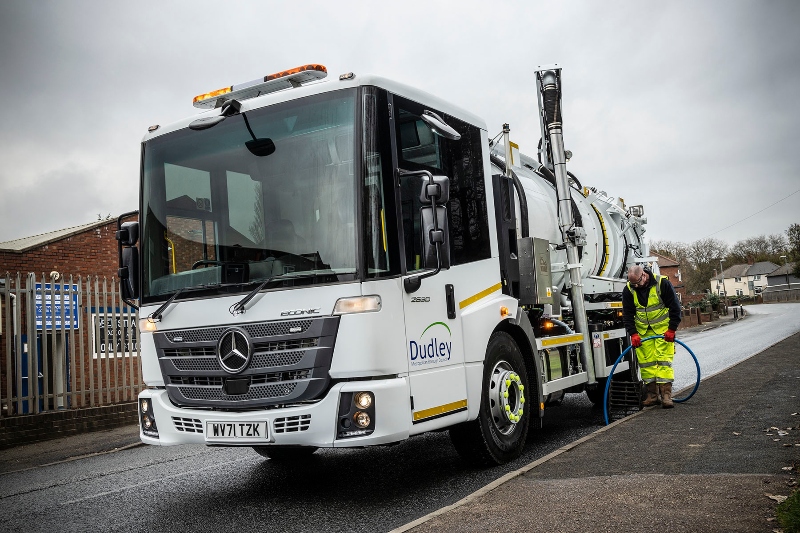 The West Midlands authority's new vacuum tank gully emptier is based on a 26-tonne Econic 2630 L chassis supplied by the Kidderminster branch of dealer group Rygor Commercials.
The truck is powered by a 7.7-litre 'straight-six' engine that produces 220 kW (299 hp) and drives through a six-speed Allison automatic transmission. The six-wheeler's steered rear axle enhances manoeuvrability.
Fitted with water tanks and jetting/vacuum equipment by Whale Tankers, of Solihull, it has replaced Dudley Council's previous, 18-tonne Econic gully emptier.
'The new vehicle's extra weight capacity and longer wheelbase has allowed us to fit larger water tanks. This means there's less time travelling backwards and forwards to empty and refill, so it can spend longer on the job,' said Highways & Transport Maintenance manager Graham Timmins.
'It's a more efficient solution but one that also offers all the benefits of Econic operation, which we've come to appreciate in our borough over many years, as well as the excellent customer service we receive from Rygor Commercials.'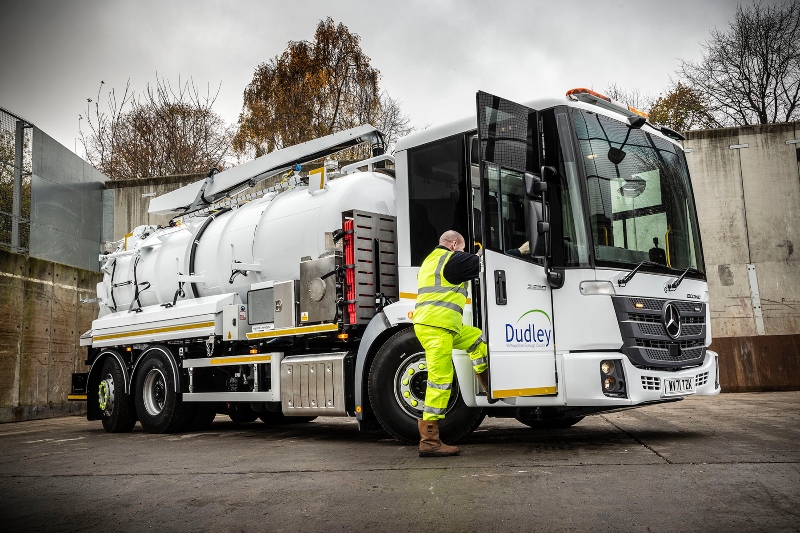 Mercedes-Benz Econics are a common sight on the streets of Dudley, as the council also runs a fleet of 35 refuse collection vehicles based on the same model. The latest, though, is used for suction cleaning of drainage gullies on roads across the metropolitan borough, and to empty septic tanks at domestic and commercial properties. It can also clear blocked drains by jetting clean water at high pressure.
The Econic is equipped with a VisionTrack camera system, while Mercedes-Benz safety aids include Active Brake Assist 4 emergency braking technology, which can detect vehicles ahead and stationary objects in its own lane, at speeds of up to 56 mph (90 km/h). It can initiate maximum braking to bring the truck to a complete stop, and at speeds of up to 31mph (50km/h) can also detect moving pedestrians.
'As well as being extremely reliable the Econic is very popular with our crews,' continued Mr Timmins.
'The low entry step to the cab makes life much easier for operatives who are in and out through the door many times in a working day.
'The deep, wraparound windscreen and low seating position, meanwhile, give drivers an unbeatable field of vision, while any areas that cannot easily be seen are covered by the camera system. This helps to enhance safety not only for our drivers and crews, but also for the general public, and particularly vulnerable road users.'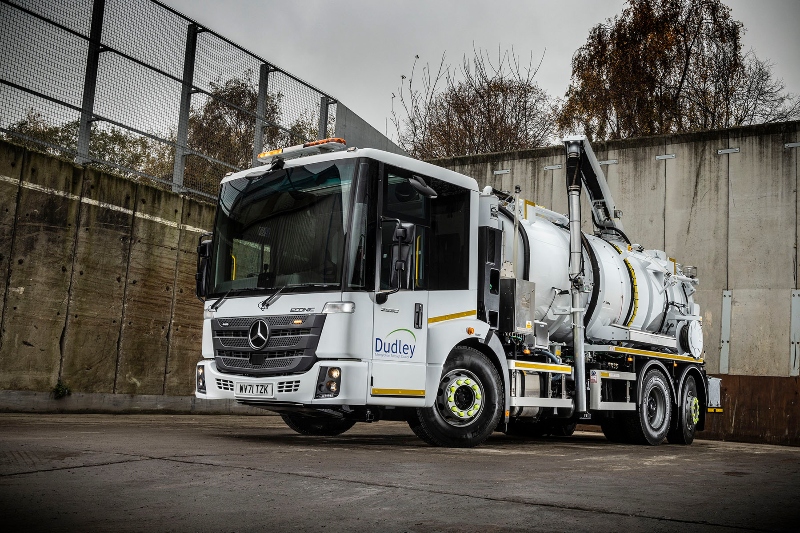 Rygor's Fleet Sales manager Jeremy Price added: 'I've been working with Dudley Council for two decades now and have supplied vehicles in different sizes and configurations for a variety of roles. The close relationship we've developed is testament to our consultative way of working and dedication to Setting Standards.'